A True Sporting Hero…
Authors:  Aili and Andres McConnon
Sports hero biographies are almost as commonplace as reality TV shows.  But occasionally one can find a sports story about a hero in the truest sense of the word; someone who does more than just catch a football or swing a bat better than others.  Road to Valor is such a tale, revealing the life story  of Gino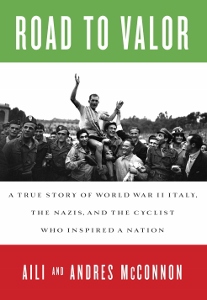 Bartali, two time Tour de France champion  and Italian war hero.
Twenty men have won two or more of the 99 editions of the Tour, but Bartali holds the distinction of the longest span between Tour victories, winning in 1938 and 1948.  He probably would have won a few more between those dates were it not for the rather disruptive conflagration of World War II.
Aili and Andres McConnon, sibling historians, start from the beginning with Bartali's early cycling escapades in his hometown in the outskirts of Florence, describing his rather rapid ascension to world class status and victory in the 1938 Tour.  In the 1930s, just as it is now, the Tour was the pinnacle of professional cycling, but despite great national enthusiasm the Italians had had only one champion prior to Bartali.
The book then goes on to describe the rise of Italian Fascism and subsequent persecution of the Italian Jews leading up to the war.   Despite his minimal interest in politics – he was a devout Catholic – there was no way that a celebrity of Bartali's stature was going to escape unaffected.  Mussolini made the most of any and all Italian sports heroes to emphasize the supposed superiority of the Italian Gentiles, even deciding which races Gino would ride and who his coaches and teammates would be.
Once the war began in earnest, motivated by the suffering of some of his close Jewish friends, Bartali was able to insinuate himself into underground anti-Fascist organizations and assist in covert relief efforts, truly remarkable given that he was one of the most recognizable faces in the country.  But he used his fame to his advantage, cleverly hiding documents and photographs in his bicycle frame and seat as he rode hundreds of miles across Italy on routine "training rides", providing the materials needed to produce false ID papers for Jews in hiding or attempting to leave the country.  If caught he certainly would have been executed, his wife and toddler son would probably have been punished as well.  The authors estimate that he saved hundreds of lives through his daring efforts.
But despite the horror and stress of the war and the resulting devastation of his beloved Florence, Bartali kept hoping to be able to return to France for another Tour.   He got his chance in 1948 – the second post-WWII Tour – although most of the participants he remembered from his prior Tours were dead or retired.  Fueled by his anger at the Fascists over the loss of so many his prime racing years and the destruction of his homeland, Bartali produced what remains one of the most dominating Tour victories in history.
Obviously, given the decades of fanaticism for the Tour de France, there are plenty of archives available to provide source material for most any Tour story.  However, finding out what happened in the Italian resistance seventy years ago is a different matter.  Needless to say, the participants didn't keep a lot of records and Bartali in particular was loath to make much of his wartime activities.  The McConnons shine here with exhaustive research, providing loads of
fascinating and dramatic detail, making it quite clear how dangerous Bartali's escapades were.   At the same time, they don't simply paint a fawning portrait, frequently pointing out that Gino could be an obnoxious grump at times.  The authors' ability to create a coherent and well documented story from such meager resources is the primary strength of the book.
At the same time, given opportunity they had to tell a truly incredible war story with Tour victory bookends, I was disappointed that I didn't enjoy it more.  Despite the material, I did find the writing dull at times, which should be impossible any time there are Nazis in the cast.  I never really found myself distracted during the day, yearning to get back to my reading.
In the end, Road to Valor is a good book about an amazing individual and one of the greatest of Tour champions.   I'm confident that cycling fans or World War II buffs will find plenty of entertainment.   In today's world of pampered sports superstars, it's unlikely we'll ever see anyone like Gino Bartali again.
— D. Driftless
[AMAZONPRODUCTS asin="030759064X"]