Bald bird is beautiful…
Author:  Katie Fallon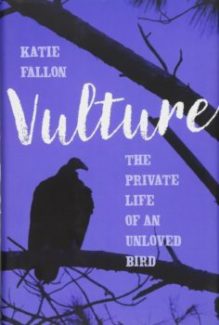 If you know what you're looking for, you can see them almost every day.  Displaying a characteristic wobble as the soar, turkey vultures are a common sight along the rural highways of southern Wisconsin every spring and summer.   Enigmatic birds that I rarely see on the ground, I often wonder what they're up to.  Vulture uncovers much of the mystery that surrounds these majestic, but often disparaged, birds.  It also makes a passionate plea for their protection and respect.
A co-founder of the Avian Conservation Center of Appalachia in Morgantown, West Virginia, author Katie Fallon and her veterinarian husband Jesse work to save injured birds and promote public awareness of the many hazards raptors face in the wild.  The author has always had a special place in her heart for the turkey vulture – a widespread denizen of much of North and South America – and she effectively captures her enthusiasm throughout the book.
Vultures aren't immediately lovable, given their fondness for rotting carcasses, their featherless warty faces and their tendency to vomit in response to anything that upsets them.  But Fallon manages to find numerous reasons to give these unusual birds a second look, reveling in their beauty on the wing and their unique approach to survival.
Seeking out fellow vulture enthusiasts across the US, Fallon and her husband travel to festivals in small towns like Hinckley, Ohio and Superior, Arizona where local humans gather every spring to celebrate the return of migrating vultures.  The couple also ventures to the Canyonlands of the southwestern US and Gettysburg National Military Park to seek out condors and vultures, ruminating on the birds' ancient roots and exploring the interface between humans, birds and the environment.
Fallon also makes a powerful appeal for environmental protection, specifically calling out two chemicals that humans have indiscriminately sprinkled across the natural landscape.  Her description of a vulture dying of acute lead toxicity – due to the ingestion of lead shot fragments – is particularly heartrending.  She also explains how vulture populations – particularly in South Asia – have been decimated by diclofenac-induced renal failure.  Cattle and other domestic animals are medicated with this anti-inflammatory drug and vultures that may feed on their carcasses or offal are exquisitely sensitive to it, resulting in their rapid demise.  Her plea for the banning of both lead and diclofenac is iron-clad in both its logic and its simplicity.
In the end, Vulture is a consistently interesting and passionately conceived look at some of world's most disparaged birds.  It eloquently argues for their ecological importance as well as their downright lovability, warts and all.  I know it gave me a new appreciation for them.
— D. Driftless
vulture photos by Dori (CC BY-SA 2.0)
Check out Dave's reviews of other bird books:  The Peregrine   /   H is for Hawk   /   Gifts of the Crow