Pity the bird…
Author:  Helen MacDonald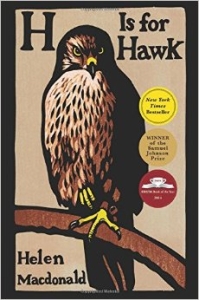 Humans have been fascinated by wild animals since the beginning of time.  But it's rare to be able to hold a genuine example of raw nature – red in tooth and claw – right in the palm of your hand, or in this case on a well leathered forearm.  I think that's the fascination with falconry.  Taking a completely wild bird and conditioning it to your presence so that it allows you to participate in the hunt is about as close as a human can get to pure predatory wildness.  Seeking out her own connection with nature, British writer Helen MacDonald invited a northern goshawk into her home.  She tells of her life altering experience in H is for Hawk, a unique and personal account of woman versus nature.
Following the unexpected death of her beloved father, MacDonald hopes to fill the gaping hole in her life with a new life, a recently fledged goshawk.  Having had experience with hawks and falcons in the past, she knows that hawks are much too full of wildness to be trainable, but with the proper devotion and patience they can be conditioned to accept a human as a hunting companion.  Relating each step in detail, from getting used to humans and all their accompanying boisterousness – dogs, busses, blenders – to eventually flying freely across the countryside and reliably returning to the welcoming forearm of their biped comrade, the author describes what life is like with a temperamental bird of prey.
But the book is much more than a hawk story.  It's also a tenderly poignant self-portrait of a woman's grief that is painful to read at times.   Her struggles through the stages of grief closely parallel her stepwise exertions with an unsympathetic well-armed raptor that possesses a mind of its own.
Drawing on her literary passions, the author also weaves the life of T.H. White, the famed Arthurian novelist, into the book.  An avid falconer himself – plagued by plenty of his own demons – White wrote his own avian memoir, The Goshawk, in 1951.  Using the book primarily as a how-not-to guide, MacDonald refers to it frequently and reflects on White's travails in the process.
Unfortunately, while the book is well conceived, finely written and often quite interesting, I found it difficult to enjoy.  MacDonald's self-flagellating grief is so overpowering at times that it's hard not to view her entire adventure in a negative light.  Throw in the thoroughly depressing account of Mr. White's agonizingly closeted life and it's often difficult to continue reading.  It's not that I'm expecting the author to write a more cheerful version of some of the darkest moments of her life, but readers who are expecting a traditional nature book about hawks are in for a colder splash of harsh life and death reality than they may be anticipating.
Equal parts woman versus nature story, grief stained memoir and disturbing literary biography, H is for Hawk won the Samuel Johnson Prize for Non-Fiction in 2104.  While the book is award worthy for many reasons – literary bravery in particular – I didn't enjoy it as much as I hoped.   While I frequently criticize non-fiction nature writers for failing to personalize their accounts, in this case the author's personal struggles overwhelm the rest of the story.  Maybe I'm being overly critical of a grieving author, but I don't think anyone is likely to be motivated to take up falconry after readings MacDonald's book, even if they're sympathetic to her heart-rending chronicle.  Most of the time, I felt sorry for the hawk.  Three out of five sad stars.
— D. Driftless
goshawk photo by Steve Garvie
Read some of Dave's other bird book reviews:
[AMAZONPRODUCTS asin="0802123414″]