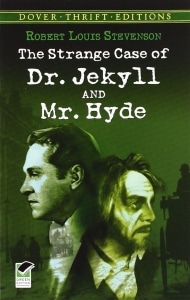 Back on my classics kick, I pulled out my trusty, completely random Google list of the top 100 novels and was pleased to see that, thankfully, War and Peace was not the next in line. Instead, a gothic novella told by my all-time favorite childhood writer, Robert Louis Stevenson, greeted me. The Strange Case of Doctor Jekyll and Mr. Hyde is a story most famous for its reiterations and its seepage into popular culture terms and phrases. Even as a child, watching TV shows, the cartoon characters would act out the story of the mad scientist and a potion that had the ability to have the dual good/evil nature of people into single entities. Finally, combined into merely two audio discs, the original tale (as read by Ralph Cosham) goes back to the strictures of proper life in Victorian England and the one nobleman whose appetites lead him to seek a deadly release.
The premise of Dr. Jekyll and Mr. Hyde is fairly well known, although the telling isn't quite as expected. Revealed as a dark mystery seen and unraveled by a friend, Jekyll remains aloof, speaking to readers finally through his confession letter. As such, we see the horror of Hyde from the outside and the secret addiction of Jekyll to this uncontrollable self. Tired of doing the right thing and living the right way, especially within a society where he, as a doctor, is expected to be highly esteemed, Jekyll is less of a mad scientist and more of an amoral escapist. The experiment is deliberate, the causation initially sought and longing for until, of course, Hyde's actions become too egregious to ignore. Now, locked within his laboratory, Jekyll's servants and friends are convinced that something has happened to the good doctor – and here lies the mystery and the slow putting together of puzzle pieces to form an intricate mosaic of how good and evil combined defines humanity.
Gabriel John Utterson is our stoic narrator, and through his eyes we view a non-linear story, starting with the horrors of a man trampling a child and leading to the initiation and final ending of this man, Mr. Hyde's, story. In such a way the mystery is born and although most readers already know the basics of the tale, this presentation still keeps it fresh and dynamic, especially since many renditions have missed the finer details and the gothic overtones. Examining what a man is truly made of, Dr. Jekyll is not ever represented as having a purely "good" side. He merely has his evil side and then his normal combination side, a theory that he himself explains. As such, he isn't the character you decide to weep for, even in normal state, but a weak and aberrant monster flaunting his selfishness and in that way, making a decision that ultimately dooms him.
In just two discs, the novella is well and completely told. The tension and suspense are contemporary and while the violence isn't as horrific as some later renditions have depicted, the items that are hinted at and the "debauchery" of Mr. Hyde's desires are more than enough for readers to intuit and imagine what they consider a personal worst.
Short, but immersive, Dr. Jekyll and Mr. Hide combines the atmosphere of a thriller with a subtle horror novel while also supplying an introspection on humanity. With a little bit of everything, the story is surprisingly poignant, the language layered in an atmospheric and fitting manner. Highly recommended!
A Note on Edition* I listened to an audio book edition read by Ralph Cosham. Cosham's deep voice and ability to immerse readers thoroughly into the story is amazing. However (and you knew this was coming) it seems that my library had an old edition, no longer available.
Other Books in Frances' 100 Classic Books Challenge:
[AMAZONPRODUCTS asin="B003T14SCS"]

Latest posts by Frances Carden
(see all)