Skiing Down Mount Murder
Author: David P. Wagner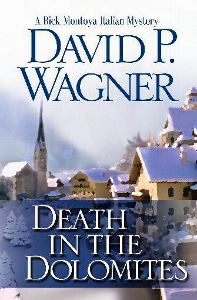 It's February. I currently hate winter. I know there are those of you who love the snowy goodness and activities this wretched season brings, but right now I am not among you. Perhaps in July I will think fondly of cozy fleece pants, but right now I'm thinking fondly of July.
So perhaps this wasn't the best time to read David P. Wagner's Death in the Dolomites.
Nevertheless, I believe I can be fair to this second installment in the Rick Montoya Italian Mysteries series. Rick Montoya is, of course, our protagonist. Raised in the Southwestern US, Rick lives in Rome and works as a translator. He has family in Italy and feels at home with the language and culture. As we enter this book, he is ready for a nice, relaxed ski vacation in Campiglio, a resort town set into the Alps. Of course, this being a cozy mystery, the whole "relaxing" thing doesn't work out because shortly after he arrives, an American banker goes missing in the small town, to the dismay of his very spoiled and very attractive American sister.. Rick has an uncle on the Roman police force and a penchant for sleuthing so it isn't long before he's helping the local police with the case.
There's nothing in the basic story that's particularly special here – it's a cozy mystery like many before it. There's a small town cast of eccentric suspects, as well as the required quirky sidekicks for Mr. Montoya. All of these characters are well rendered if not overly exciting or interesting – I especially liked Inspector Albani, the Italian police officer working the case with Rick. I was not as fond of Rick's buddy Flavio, who struck me as boorish and leering.
Where Death in the Dolomites shines – and I hate to admit this in February – is in its depiction of the beautiful Alpine setting of Campiglio. It almost makes taking a vacation to someplace cold seem charming and fun. But like a lot of cozy writers, Wagner gets a little too wrapped up in his descriptions of food and drink, giving them as much attention as the more deserving setting.
I didn't love Death in the Dolomites, mostly because I wasn't charmed by Rick Montoya as a character. He's well written and Wagner certainly gives him lots of room to grow as the series proceeds, but there's a distinctly masculine feeling to the book that left me a little cold (pun 100% intended).
But the book is well written and the mystery is pretty good. I think it's probably just more suited to a male audience. 2 out of 5 stars from me, but a recommendation for you cozy readers out there with a love of Italy and manly protagonists.
-S. Millinocket
My thanks to Mary Glen McCombs for sending me a review copy of Death in the Dolomites.
[AMAZONPRODUCTS asin="1464202729″]

Latest posts by Sue Millinocket
(see all)