True love…
Author:  Karsten Heuer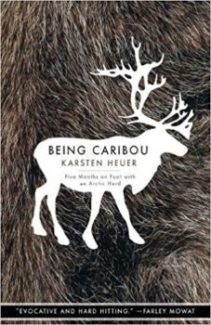 It was going to be one heck of a long walk.  And they were going to have to keep up with some of the best walkers on the planet.  Known for the lengthy spring migration from its wintering range to its calving grounds along the shore of Beaufort Sea – longer than any migrating land animal – the Porcupine caribou herd was not going to make this easy.  But biologist Karsten Heuer and his fiancée filmmaker Leanne Allison were nothing if they weren't determined.    So in April 2003 they set out to follow the herds as they saunter for five months across one of the earth's harshest landscapes in the borderlands between northwestern Canada and northern Alaska.  Being Caribou is Heuer's account of the journey and it makes for some thoroughly entertaining adventure writing.
Inspired by the imminent demise of the herd – due to climate change and the impending development of local petroleum and natural gas resources – Heuer hoped to document the wonders of these formidable ungulates, bringing attention to their plight.  Unfortunately for him, but to the benefit of his readers, he almost got himself killed in the process.
Now caribou have the distinct advantage of having adapted to life in the Arctic over many millennia.  Not so for these two bipeds.  Even if everything went according to plan and they found their food and supply caches along the way and the caribou went where they thought they would go this was going to be one tough hike, assuming that hungry brown bears didn't  eat them during the journey.
Fortunately, Heuer and Allison live to tell about it and capture numerous natural moments that would have been impossible to experience in any other way.  With a shrewd scientist's eye, Heuer describes their adventures with intelligence and plenty of astonishing stoicism and determination, highlighting the many times that the couple saved each other, both physically and mentally.
Now they didn't try to survive by eating only lichen, bark and icy brown grass like their hooved subjects, but the hardship, struggle and nastiness that this fearsome twosome withstood is a true testament to their passionate belief in the beauty of nature and each other.  Being Caribou works on two levels, as an in-depth look at one of the planet's toughest animals and as a uniquely conceived adventure story.  Highly recommended for nature lovers or adventure buffs.
— D. Driftless
Caribou photo by Danielvandermaas (CC BY-SA 4.0)
I purchased this book the last time I was lucky enough to visit The Elliott Bay Book Company, Seattle's finest bookstore.  It's a great destination for any book lover.
Check out some reviews of other books about adventure and friendship:  Lands of Lost Borders   /   Called Again   /   Ruthless River
[AMAZONPRODUCTS asin="1571313087″]