Ascending Asia…
Author:  Kate Harris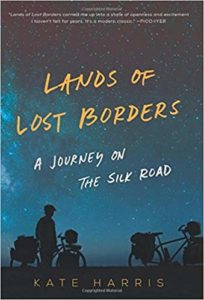 I was hooked by the brief bio on the back flap.  Canadian author Kate Harris "lives off-grid in a log cabin on the border of Yukon, British Columbia and Alaska."  Now I've never been to that particular spot on the globe, but just a brief consultation with Google Maps will point out that it's pretty hard to find a more isolated place to set up housekeeping.  It was clear to me that Lands of Lost Borders was going to be no ordinary cycling exploit.
Suffering from a lifelong case of aggravated wanderlust, the young Harris – a national cycling champion and Rhodes Scholar – leaves behind a life in the laboratory to seek out a bicycle adventure across most of Asia.  She and her cycling companion Mel plan out a route from Istanbul to Tibet, attempting to follow the course of the ancient Silk Road.  The result turns out to be one consistently engaging saga.
As the 2011 adventure gets underway, slogging for days along the rain-soaked southern Black Sea coast, it's hard to believe Harris is going to find the joy that she seeks.  Add the often distressing encounters with countless governmental authorities and other ruffians and it's really hard to not fear for the both young women's lives.
The list of obstacles is really quite sobering, sure to dissuade any but the most determined travelers.  Logistics.  Food.  Water.  Equipment.  Physical safety.  Injury.  Border crossings.  Traffic.  Potholes.  Weather.  A failure in any one of these areas could have resulted in tragedy.  But the intrepid cyclists somehow manage to keep an eye on the long game, not letting the daunting list of potential disasters shake their resolve.
How do you compress ten months of travel into a couple hundred pages and keep it exciting?  I have no idea, but Kate Harris definitely has the knack.  From the Bosporus to the town of Leh in northern India, her adventure cycling narrative builds in intensity without a hitch.  When she's not writing about sore muscles or bureaucratic border maneuvers, she sprinkles in frequent philosophical observations about life and travel that add both substance and flavor to the proceedings.  Both cyclists also display an admirable knack for getting the most out of their contacts with the countless native residents they meet along the way, making the journey much more than just a physical endurance fest.
But maybe more than anything, the book is a testimony to an incredible friendship.  There's a reason so many explorers go it alone.  Through the ups and downs, horrible weather, stress, danger and countless obstacles, it's inevitable for even good friends to have a falling out.  But somehow, Kate and Mel keep it together, strengthening their powerful bond as the miles slowly roll by.
In the end, Lands of Lost Borders is memorably fearless first book.  Harris is a beautiful writer, poetic at times, with a fondness for deep ruminations that she shares on the page very effectively.  There are plenty of biking adventure books out there.  If I'd read them all, I could confidently say that this is one of the best.  I'm looking forward to her next project.
— D. Driftless
Rize photo by Sara Yeomans (CC BY 2.0)/Leh photo by ShivaRajvanshi (CC BY-SA 4.0)
Check out Dave's reviews of other adventure books:   The Cyclist Who Came Went Out in the Cold   /   Called Again   /   Danziger's Travels
[AMAZONPRODUCTS asin="0062839349″]