A Fast Paced Comedy Read
Author: P.G. Wodehouse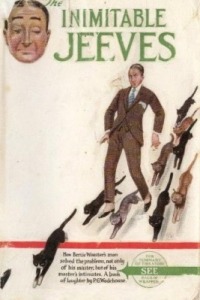 The victim of a long-bumpy commute with an ever more ill-tempered pickup, I decided that it was time to weave some classics back into my slumping reading list. With this in mind, I hit the library in search of a pick-me-up, discovering the P.G. Wodehouse audiobooks section. I tucked the Inimitable Jeeves, a semi-novelish collection of short stories written (and published separately) about Bertie and Jeeves, into a towering hand-full of audio books and got ready to let the warmth of laughter brighten this winterish spring.
In typical Wodehouse fashion, The Inimitable Jeeves doesn't focus on a central plot, but instead a mapping of mini-escapades centered around the fashionably clueless Bertie and his clever butler, Jeeves, as they navigate the pompous upper class world of British aristocracy, running into some right rummy characters. Bingo Little, an old school chum of Bertie's, brings many laughs into the story as he falls in love constantly, each time with a specimen worse than before, pawning Bertie off as a novelist of radical female romance to try and woo his stingy uncle over to the idea of a not-so-above-board wedding with a shop girl. Bingo continues to up the stakes as he becomes involved in everything from the rise of socialism, a little side betting on the lengthiness of a country parson's sermon , and a parlance with amateur dramatics to woo the current flavor of the moment. As always, everything gets out of hand and only Jeeves can rescue Bingo and Bertie from the pitfalls of romance, high living, and penurious family.
Meanwhile, the cantankerous  Aunt Agatha is on the prowl, attempting to make Bertie more responsible by dumping Claude and Eustace, his foppish cousins, onto Bertie's ever mounting plate of responsibilities. When Claude and Eustace refuse to board the boat for Africa, instead staying on to fight out a romantic quarrel, it's up to Bertie to give up the bad fashion and appease Jeeves in time for some last minute shenanigans to remove the troublesome twin duo.
The Inimitable Jeeves is a fast read with a lot of hilarity and slapstick humor interspersed with some old world charm and good clean fun that the whole family will enjoy. Listening along to Bertie's hilarious escapades while bumping my way into work made my entire day better and lightened the mood of a dreary winter.  I laughed out loud through most of the book, and found myself looking forward to my commute time each day. The few people who caught a ride with me during this time were forced to listen along, and soon became hopelessly addicted to the plot and the little mini-cliff hangers of each adventure that kept the pacing fast and fun.
The characters, especially Bingo Little (my favorite) have delightfully over the top personalities. Bertie's lackadaisical attitude, easily appeased with the old newspaper and a well-timed cup of late morning tea, is tested to the limit as a cast of self-important and lovable friends and family tromp through his house and overburden his schedule, getting him involved in every little scheme along the way. Mix up this witty cast of characters with the ever calm and collected Jeeves, and you have a recipe for good natured disaster and some last minute reprieves (if only Jeeves would just let Bertie keep that purple waist coat.)
It's been several years since I indulged in some Wodehouse, and it was fun to get back into the off-the-cuff writing style. Some people, however, might finding the reading a little difficult
if they are not familiar with British slang (i.e. old bean, chum, rummy, etc.). Bertie even seems to make up some words and phrases along the way as he works through an exasperating day with family and friends in tow. Personally, this is my favorite part of the entire Wodehouse atmosphere, adding an even more comic touch and keeping everything light and fun through both the situations and the phrases and language itself.
The audio CD is a must (especially if you have trouble getting into the old world British way of things). The reading style of the narrator compliments the tone of Bertie and pulls off the upper-crust English gent to a tea (haha, see, I can go all Wodehouse too). There are only about six discs, making this a quick read. Thankfully, tracking is well done on these discs too so you can go backward and forward by three minute increments.
So, need a little something to lighten the mood and keep the road rage at bay? I highly recommend a jaunt through the light hearted world of Wodehouse to put the roses back in your cheeks and get the spring revived in your drooping wintery steps.
–Frances Carden
[AMAZONPRODUCTS asin="1609984161″]

Latest posts by Frances Carden
(see all)