Mostly famous for gambling, brothels, and a searing-hot desert, Reno, Nevada, might not be an obvious destination for the bookish traveler. But I lived in Reno for over a decade, and I'll bet it has more to offer than you think. Let's take a tour of the "biggest little city in the world" and see if I can change your mind about its literary attractions.
Reno 101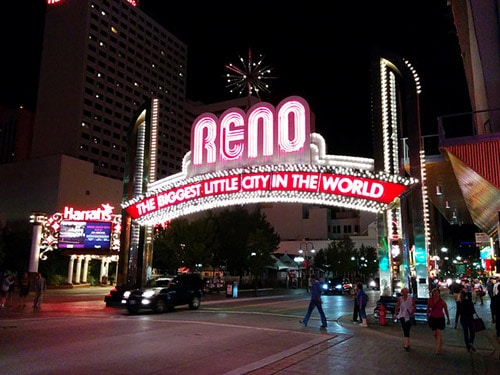 The Reno-Sparks metro area has about 430,000 people, making it the second largest in Nevada after Las Vegas. Originally inhabited by tribes such as the Washoe and Paiute, Reno gained some white homesteaders in the 1850s, but the real population boom came when a modest gold rush was followed by the Comstock Lode and the silver mining rush. Nearby Virginia City is a former silver boomtown turned Wild West tourist attraction. The arrival of the Transcontinental Railroad in the 1860s put Reno on the map, but when gambling was legalized in 1931, it soon became better known for casinos and quickie divorces.
Despite its slightly seedy reputation, Reno-Tahoe has plenty of wholesome outdoor attractions, including sailing Lake Tahoe, skiing in the Sierra Nevadas, and kayaking, biking, and hiking at Pyramid Lake. The annual hot-air balloon race brings enthusiasts from all over, although the Burning Man art-hippie festival in the Black Rock Desert is probably Northern Nevada's most (in)famous event.
Sundance Books and Music
Sundance has been around for over 25 years, but back in my day, it was in a horrible strip-mall location that was dingy and run-down. Nowadays, it has the lovely location you'd expect of an indie bookstore: the historic white-columned Levy Mansion, next to the Truckee River that runs through downtown.
Grassroots Books
How can you not love a bookstore that gives everyone a free used book? This independent secondhand store has bag sales, where you can cram a paper bag full for $5, and partners with local schools to hold fundraising book fairs. Or shop the warehouse sale for deep discounts. Who knows what kind of treasure you'll find?
Happy Happy Joy Joy
When you see the giant purple Cheshire-cat mural on the brick entrance, you'll know you're in the right place. Happy Happy Joy Joy is primarily a toy and novelty store, but it does have a selection of zines, comics, and art books. The brightly colored shelves are packed with gag gifts, classic kids' toys, accessories, and home decor. The "Shoezilla" sneaker sculpture alone is worth stopping in for. Most importantly, it's right across the street from Junkee, a vintage/secondhand/antiques mega-store that is hands-down my favorite place in Reno.
Nevada Museum of Art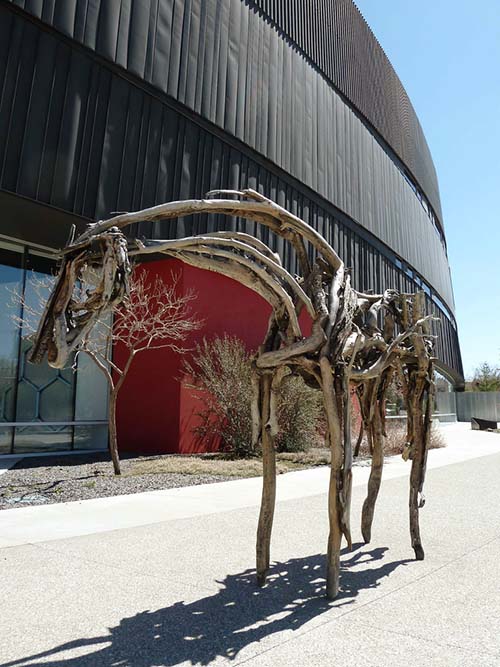 While the Nevada Museum of Art isn't huge, it is the only American Alliance of Museums-accredited art museum in the state. Take that, Vegas! The collection is divided into four thematic (rather than historical or stylistic) exhibitions, plus rotating temporary exhibitions. In addition, the CA+E research library is an art history library that's open to the public. The museum store has some art and local history books and doesn't require museum admission to shop. Plus, you can visit this horse sculpture, who's permanently grazing out front.
Reno News & Review
Reno's weekly alternative paper, the Reno News & Review, has been around for many years. So long, in fact, that I used to write arts & culture articles for it back when I lived there. If you're visiting Reno, it's still a great resource for local news, cultural events, live performances, and entertainment.
Writers in the Woods Literary Speaker Series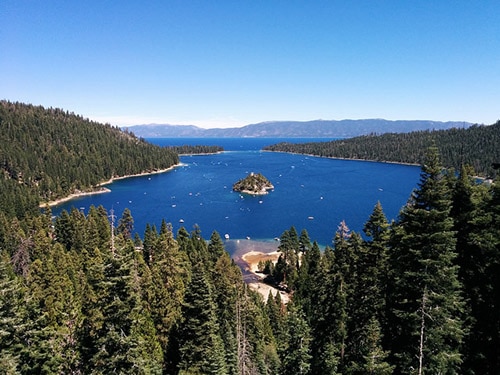 Lake Tahoe is just an hour's drive away from Reno, but its beautiful beaches, historic mansions, and tall pine trees will make you feel like you've escaped civilization. (At least, as long as you stay away from the casino strip.) Sierra Nevada College's "Writers in the Woods" program brings authors and poets for Friday-night readings that are free to the public; they also offer writers' workshops on weekends.
Artown
Created in 1996, Artown is Reno's month-long festival of the arts, held each July and featuring cultural events all around town. You'll find concerts, theater and performing arts, art exhibitions, workshops, open mics, and more.  In 2014, the festivities included a "Choose Your Own Adventure Literary Crawl," with a map of literary events at bookstores, bars, restaurants, and galleries. The full festival schedule comes out in May — we can't wait to see what bookish events will be on this year's roster.
Lake Tahoe Shakespeare Festival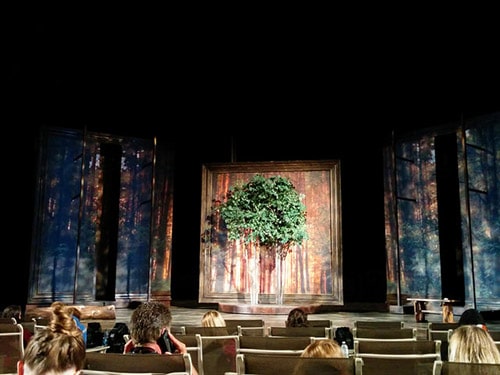 Another excellent Tahoe option is the Lake Tahoe Shakespeare Festival, located at Sand Harbor State Park. Each season, the company stages some of Shakespeare's plays, usually lighter family-friendly fare (although the 2015 season includes Romeo & Juliet). They also feature musical and dance performances from groups like the Reno Philharmonic. The open-air theater boasts gorgeous lake views, and performances are timed to capture the beautiful sunsets. Sit in a beach chair or picnic on the sand; you can bring your own food and drink or buy refreshments from the theater's vendors. Tickets start at $27 for adults, with discounts for kids.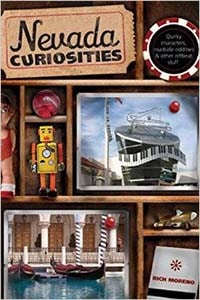 Planning a trip to Nevada?
Nevada Curiosities
is a fun guide to Nevada's offbeat, weird, and quirky destinations. It's written by an award-winning Nevadan author and publisher, and he writes about stuff I've never even heard of. If you're planning a trip or want to stump your favorite local, this book will give you a whole new perspective on the Silver State.
See more Literary Travel posts:

Latest posts by Stephanie Perry
(see all)