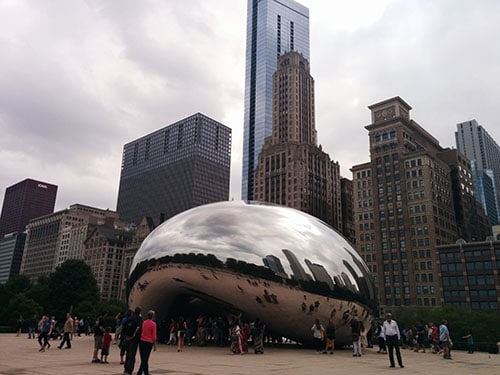 It's summer, and that means it's time to travel! I'd never been to Chicago, and that seemed like reason enough to go for a short break and explore the city. Sue met me there and we did our best to see as many literary sights as we could cram in. Come with us on a tour of the Windy City. It's Literary Travel: Chicago edition!
Chicago 101
The third most populous city in the U.S. (after New York and Los Angeles), Chicago has about 2.7 million residents; the greater metro area has about 10 million. O'Hare International Airport is the busiest in the world.
The Town of Chicago was organized in 1833 with just 200 residents and incorporated as a city in 1837, and for several decades was the fastest-growing city in the world. As a major transportation hub for shipping and railroads, Chicago's economy flourished, attracting European immigrant workers. Abraham Lincoln was nominated in Chicago for the nation's presidency at the 1860 Republican National Convention and went on to defeat Douglas in the general election, setting the stage for the American Civil War. The Great Chicago Fire of 1871 destroyed a large area of the city, but the post-fire reconstruction saw the dawn of the skyscraper era in architecture. In 1893, Chicago hosted the World's Columbian Exposition, drawing over 27 million visitors. During the early 20th century, the Great Migration led to a large influx of African-Americans from the South to the Chicago area by railroad, searching for better lives. With Prohibition, gangsters like Al Capone ruled the streets, making their fortunes off of bootleg liquor.
Today, Chicago is a major world financial center, and other principal industries include printing, food processing, and shipping and distribution. It has a thriving theater and arts scene, and its African-American influences show in Chicago blues, soul, jazz, and gospel. It's a major sports city, home to the Cubs and White Sox (baseball), the Bears (football), the Bulls and the Sky (basketball), the Blackhawks (hockey), and the Fire (soccer). And, of course, it's home to such culinary delights as deep-dish pizza and the Chicago hot dog, garnished with mustard, pickles, relish, tomatoes, onions, peppers, and a dill pickle spear.
Chicago Public Library, New and Old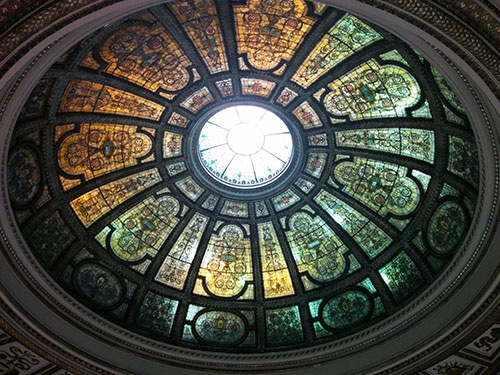 As Chicago rebuilt after the Great Chicago Fire of 1871, public support for a library grew quickly, and the City Council established the Chicago Public Library in 1872. The library started in a water tank that had survived the fire and moved several times before finding a permanent home in 1897, in what's now the Chicago Cultural Center. The building's centerpiece is the Tiffany stained glass dome and hanging lamps inside Preston Bradley Hall. Bookmobile service was launched in 1951.
Today, the library's main branch is located in the Harold Washington Library Center, which opened in 1991.
After-Words Bookstore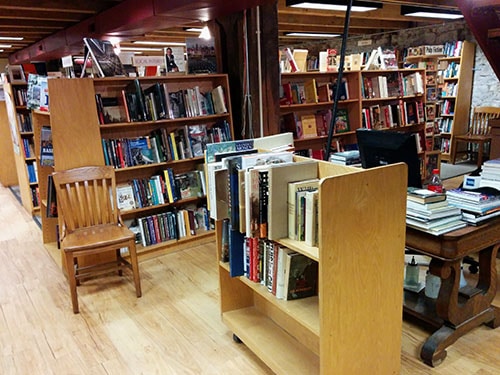 I wasn't expecting to find used bookstores near Chicago's posh Magnificent Mile, but After-Words is one of a few secondhand stores left in the downtown area. This surprisingly large two-story bookstore has a great selection of local-interest Chicago history books and guides. New and used books are mixed together on the shelves downstairs, and you get a 25% discount on books that have been sitting there for over a year. It's a charming space, with wooden shelves and strategically placed chairs for book perusal, and it's open late for a post-dinner browse.
Chicago Art Institute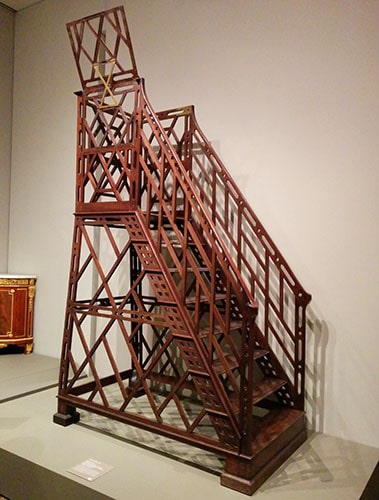 I'm sure any visitor to Chicago already knows about this museum, but the Chicago Art Institute is a must-see destination. I always make a beeline to the decorative arts exhibits, and felt some serious book envy when admiring this beautiful library ladder. The large gift shop has art books for every kind of collector, charming stationery, and even artsy sticky notes. Bonus: the Chicago Art Institute is probably the only museum I know that has its own book club, with selections that match current exhibitions, where you can download discussion guides for your book group.
Printers Row Lit Fest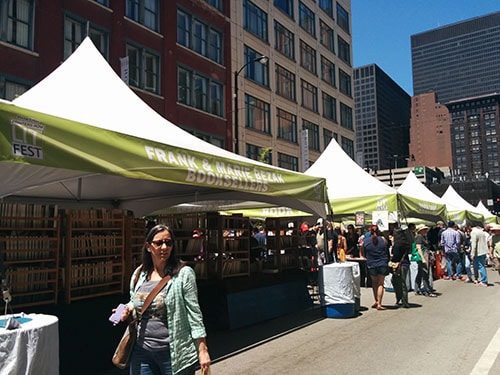 We just happened to be in town for the 2015 Printers Row Lit Fest, known as the Midwest's largest outdoor literary festival. The event fills the streets with dozens of tents for independent bookstores, small presses, writers' guilds, and independent authors. We picked up copies of When the Shoe Fits by Mary T. Wagner and Only Things by Brad Carter (a hoarder horror novel!), plus a few used books for the trip home. Throughout the day, there were author readings, panel discussions, and musical performances. If you happen to be in the area during this book festival, plan for an afternoon or even a full day of bookish fun!
Sandmeyer's Bookstore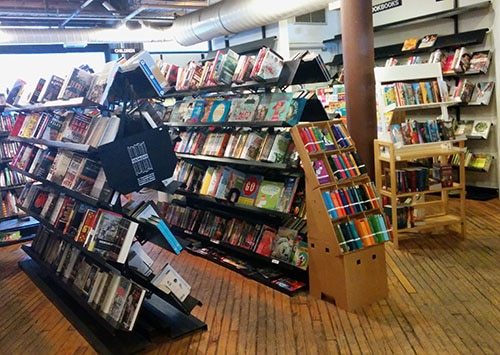 While browsing the books at Lit Fest, we popped in to check out Sandmeyer's Bookstore, an independent family-owned store since 1982. This charming little store has exposed brick walls, squeaky hardwood floors, and plenty of delightful books and gifts for readers. I loved the Penguin Great Ideas display — inexpensive paperback editions of history's great thinkers, with gorgeously designed covers. We even spied the Little Free Library book prominently displayed on a front table, so we know they're fellow LFL lovers.
Next Time, Chicago
We didn't make it to Powell's Books this time (no relation to Powell's Books in Portland), though we were at least able to browse their tent at Lit Fest. This 2-hour Literary Chicago walking tour sounds pretty fun, weather permitting. The 2015 Chicago Humanities festival takes place in late October and early November. And the American Library Association has a list of literary landmarks by state for the adventurous.
See other posts in our Literary Travel series:

Latest posts by Stephanie Perry
(see all)