The third and final stop on our South American trip, after Montevideo and Cordoba, was Buenos Aires, Argentina. (Well, we'd been to and from the airport a few times by this point, but that hardly counts.) My #1 vacation activity is museums, so I was particularly excited to visit the Museo Nacional de Bellas Artes, MALBA, and the Museo Evita, among others.
Buenos Aires 101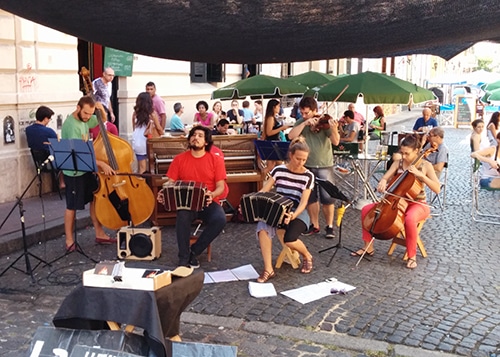 The capital of Argentina as well as its largest city, Buenos Aires has about 15.5 million people in the greater metro area. Oddly enough, though, it's not part of Buenos Aires Province — the city is its own separate district, sort of like Washington D.C. It's located on the Rio de la Plata, and residents identify so strongly with the port that they're known as porteños.
The city began as a Spanish settlement in the 16th century, and grew through trade as well as the arrival of Catalan and Jesuit missionaries. In 1816, after fending off several British invasions, Buenos Aires gained independence from Spain. Through beef ranching on the pampas plains, railroad development, and shipping, Buenos Aires became a major center of business and a world-class city. Today, the population is very European, including the largest Jewish population in Latin America, though it also has an Asian community.
Sometimes called "the Paris of South America," Buenos Aires has a strong artistic and cultural tradition. The lively theater district offers hundreds of productions each year. Of course, Buenos Aires is famously the birthplace of tango, but there's also a ballet company, the internationally renowned Teatro Colon opera house, and several orchestras. In April, the Buenos Aires International Book Fair hosts readings, workshops, conferences, and other events for a 20-day festival of literature.
No, I Didn't Go to El Ataneo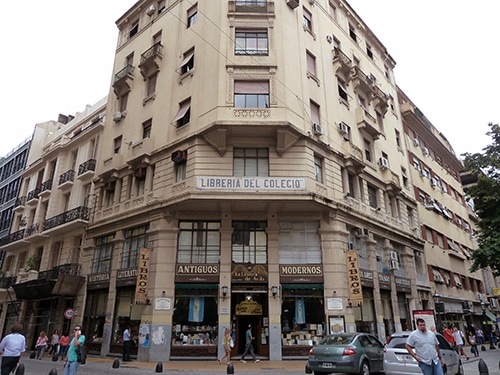 Let's just get it right out of the way: Buenos Aires is home to what's universally agreed to be one of the world's most beautiful bookstores, and I didn't go (the bookstore above, which I did go to, is Argentina's oldest bookstore). What am I, crazy?! Well, I had my reasons.
It wasn't really that close to where we wanted to go. With just a handful of days to see as many sights as we could, we had to strategize carefully and visit clusters of destinations, but El Ataneo was kind of off by itself.
I was pretty sure it wasn't going to have anything for me, anyway. By this time, I'd been heartbroken over and over while gazing at bookstores full of things I couldn't read, and I couldn't take more of the pain. And I've never really been interested in collecting Famous Bookstore Tote Bags just to prove I've been somewhere.
Thanks to my trusty e-reader, I still had plenty of books with me. I never go on vacation without a stack of magazines, books, and my Kindle — usually far more than I'll have time to get to. It might have been different if I were facing 14 hours of flying with nothing to read!
There are already so many gorgeous photos by professional photographers, I doubt the world needs my blurry, awkward cameraphone picture too.
So there you have it. I'm sure it's a beautiful sight to see, and if I'm in Buenos Aires again, I'd seek it out, but there was just too much else to do (and eat!) on this visit.
The Gaucho Literature Tradition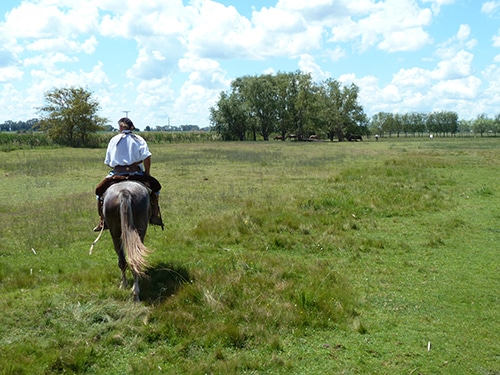 Gauchos are the South American equivalent of cowboys, and they have a similar nostalgic mystique in Argentina. Gauchesco, or "gaucho literature," was a literary movement in the late 19th and early 20th centuries that captured the romance of these solitary cowboys' lives on the grassy pampas plains. These novels, poems, and folk songs are still popular and have become part of the national identity.
We decided to play gaucho for a day with a guided tour. A scenic drive through the country took us to the little town of San Antonio de Areco, where local craftsmen work in silver, leather, and woven textiles to make beautiful traditional goods. From there, we spent the afternoon at Estancia El Ombu de Areco, enjoying a parrilla BBQ lunch in the shade of the ombu trees, riding some extremely patient horses through the pampas, and listening to an old gaucho sing and play guitar while his grandchildren played at his feet. Since it was only my second time on a horse, I won't claim some mystical cowboy connection, but it did inspire me to check out some gaucho literature when we returned to the city.
Museo Nacional de Bellas Artes Bookstore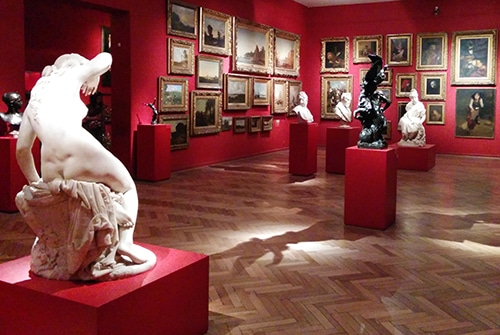 Argentina's National Museum of Fine Arts is a must-see if you're in Buenos Aires. Like many museums in South America, it's not overwhelmingly large, but its impressive collection includes works by Rembrandt, El Greco, Rodin, Gaugin, Degas, Picasso, and Monet, as well as notable Argentine artists like Antonio Berni and Pueyrredón. And admission is free! It also had the best museum bookstore I saw on the whole trip (museum gift shops don't seem to be as much of a thing there). There was a nice series of inexpensive illustrated books on South American culture (gauchos, yerba mate, Argentine beef and wine) translated into several languages, and of course plenty of beautiful art books that needed no words to enjoy.
Senora Jane Austen in translation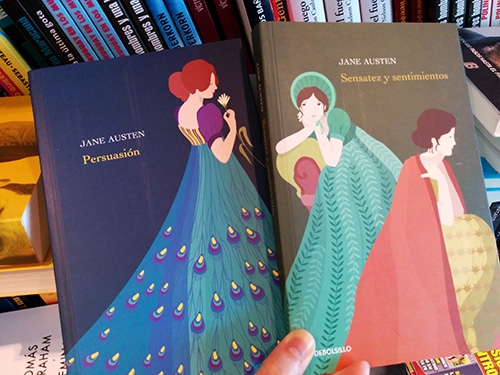 Thanks to my reading-comprehension difficulties, there weren't too many Spanish-language books that really tempted me… except for these gorgeous translations of Jane Austen novels. I loved the cover art, which felt clean and modern but also visually alluded to the glorious frills and furbelows of the Regency era. Since I don't have the ability to express anything more sophisticated in Spanish than my feelings about ice cream and the weather, it would be fascinating to see the sly sarcasm and cutting wit of Austen's social-climber characters rendered in another language. Though Orgullo y Prejuicio doesn't have quite the same alliterative zip, I must admit.
Of course, there's far more to see in Buenos Aires than anyone could manage in a single trip, but we made the most of it. We visited museums, strolled through the famous La Recoleta Cemetery where Evita is buried, and consumed more steak and red wine than I'd ever thought possible. I'd love to spend more time in South America generally, and Argentina in particular — but I'd better brush up on my Spanish before I head there again!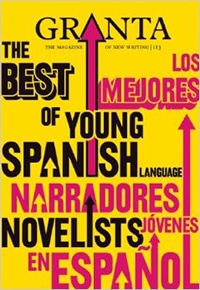 Want to read South American authors?
Get a taste of Latin American literature with Granta 113: The Best of Young Spanish Language Novelists (Los Mejores Narradores Jovenes en Espanol)
. Many of these 22 writers made their English-language debut in this collection. Read about the anthology.
See other posts in our Literary Travel series:

Latest posts by Stephanie Perry
(see all)