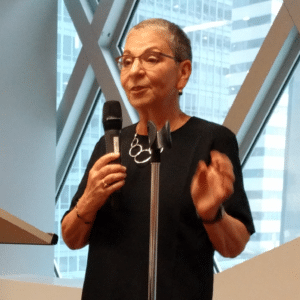 Seattle is the kind of town where the phrase "rockstar librarian" is used without irony and raises no eyebrows. So it should be no surprise that, even after the last-hurrah-of-summer debauchery of Labor Day Weekend, Seattle's own world-famous librarian Nancy Pearl filled the house to overflowing for a reading from her debut novel, George and Lizzie
. (You may know her from Book Lust
and More Book Lust
— she even has her own action figure.)
I was lucky enough to be invited to the pre-event reception, where book lovers enjoyed wine and snacks and a special talk by Nancy Pearl. She recalled growing up in a low-income household in Detroit, where she didn't always feel safe or want to go home; for her, libraries were a welcoming refuge, as well as a way to widen her world and broaden her experience. When she lingered until closing time, the librarians would even give her a ride home to make sure she got there safely. By the age of 10, Nancy knew she wanted to become a librarian someday, to become the role model and inspiration to other kids that librarians had been for her.
This seems like a good time to mention that Seattle Public Library branches are King County Safe Spaces, meaning that youth ages 12-17 can go to a library or call 1-800-422-TEEN to receive immediate help 24/7 from a Safe Place coordinator who can provide resources, connect them to shelter services, or reunite them with family when safe. (Other Safe Places include including Seattle Parks and Recreation community centers, Metro Transit buses, and YMCA facilities.)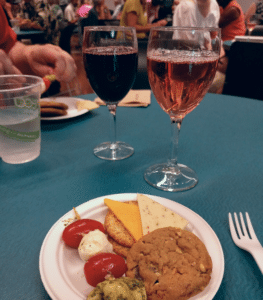 As for George and Lizzie, it's a novel about a modern marriage. George is a chipper orthodontist, Lizzie the gloomy daughter of two child psychologists who seemed to use their child as a living laboratory. They're college sweethearts, but Lizzie spends a good chunk of their relationship lamenting the One Who Got Away, and she's not particularly a fan of matrimony. So what kind of relationship can these two very different people build together? That's what the novel explores, through a miscellany of musings and scenes from their marriage.
The reading was co-sponsored by the Seattle Public Library Foundation and Town Hall, which is taking over venues all around town during its 2017-18 season while its historic, nearly century-old building is closed for a much-needed renovation. They've got a great season of lectures lined up, and most of them are just $5 to attend, so check out the schedule if you're in the area. And no matter where you live, I bet your local library offers a range of free readings, classes, seminars, and other awesome services, so visit one today and find out how they can help you!

Latest posts by Stephanie Perry
(see all)