One of fall 2015's most anticipated movies is Room
, based on the psychological suspense novel by Emma Donoghue. We loved the book and can't wait to see how the Room movie adaptation turns out. Here's what we know about it so far! (Besides our book review, that is.)
About the Book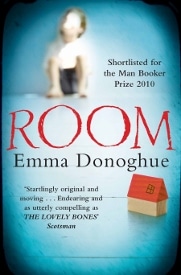 Emma Donoghue conceived the idea for the book after reading about the Josef Fritzl case in Austria (see our Girls, Abducted reading list for books about the Fritzl case and other abduction survivors). The chilling, heartbreaking novel was short-listed for the 2010 Man Booker Prize. The story is told from the point of view of Jack, a curious and thoughtful five-year-old exploring the limits of his world like any child. Reading through the lines of his narration, we come to understand that Jack and his young mother are captives, kept prisoner in a small room by "Old Nick," who is Jack's father. It's no spoiler to say that Jack and his mother don't stay in the room forever, but what seems like a ripped-from-the-headlines happy ending gets more complicated as Jack and his mother struggle to deal with their freedom. See our full review.
Our Room Movie Prediction: Frighteningly Awesome
With a plot full of abduction, rape, abuse, and mental illness, this movie could go terribly wrong if not sensitively handled. But from what we've seen so far, it's a respectful, emotionally nuanced adaptation of the book, with a talented young actor playing Jack, the story's heart. This film won't be for everyone, however well made, but we're looking forward to seeing it on the big screen!

Latest posts by Stephanie Perry
(see all)