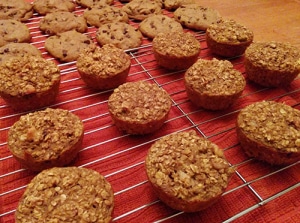 My fall pumpkin addiction is unstoppable! There are pumpkins on the front porch, decorative gourds artfully arranged on the table, and cans of pumpkin puree stacked in the pantry. Last night I couldn't hold back the urge to bake any longer and went on a two-for-one pumpkin spree: pumpkin chocolate chip cookies and these pumpkin oatmeal muffins. Made with oats, pumpkin, walnuts, and eggs, a couple of these little guys are a filling breakfast. Or serve them toasted and topped with pumpkin butter or cream cheese for afternoon tea or book club! Best made the day before, these muffins taste moister and richer after sitting overnight.
Pumpkin Oatmeal Breakfast Muffins
Adapted from Emily Bites
Makes 12 small muffins (6 servings, in my book)
INGREDIENTS
2 cups rolled oats (I used quick-cooking oats and it worked fine. What's the difference?)
1/3 cup packed brown sugar
1 1/2 teaspoons baking powder
1 teaspoon pumpkin pie spice
1 teaspoon cinnamon
1/4 teaspoon salt
2 eggs
3/4 cup skim milk
1/2 cup canned pumpkin
1 teaspoon vanilla extract
1/3 cup dried cranberries, chopped walnuts, semi-sweet chocolate chips, etc. (optional)
DIRECTIONS
Preheat the oven to 350. Lightly mist 12 cups in a muffin tin with cooking spray.
Combine the oats, brown sugar, baking powder, pumpkin pie spice, cinnamon, and salt in a large bowl and stir until thoroughly mixed.
In a separate bowl, whisk together the eggs, pumpkin, milk and vanilla. Add the wet ingredients to the dry ingredients and stir until blended together. Stir in the chocolate chips, nuts or dried fruit, if using.
Spoon the oatmeal mixture evenly between the prepared muffin cups (about halfway full). Bake uncovered for 18-22 minutes or until oatmeal is lightly browned and a toothpick inserted into the middle comes out clean.

Latest posts by Stephanie Perry
(see all)