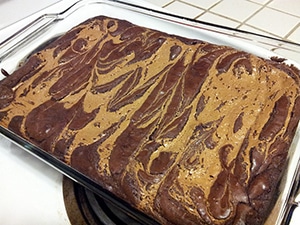 Every home cook should have a few go-to desserts on hand in case of emergencies — especially during the holidays. Here's one of mine! If you keep a box of brownie mix on hand (I like Ghiradelli), all you need is basic pantry staples like peanut butter and sugar to whip up a fancy-looking swirled brownie in under an hour. This is one of the few occasions where I'll unapologetically admit to baking from a mix, because brownie mixes turn out just as good as, if not better than, scratch. Pop this in the oven while you shower, and by the time you're done fixing your hair, you'll have a plate of home-baked treats to take to your holiday event! (Or settle in with a good holiday book.)
Ingredients:
Your favorite brownie mix for an 8″x8″ pan (or double ingredients below for a 9″x13″ pan)
1/2 cup peanut butter
2 tablespoons butter, melted
1/3 cup powdered sugar
1 teaspoon vanilla
Directions:
Prepare brownie mix according to package and pour batter into pan.
Stir peanut butter swirl ingredients together. Drop spoonfuls on top of the brownie batter, then swirl with a butter knife.
Bake brownie mix according to package directions. Peanut butter swirl may be soft at first, but will set as brownies cool.

Latest posts by Stephanie Perry
(see all)