Planning to hit the road this summer? Whether your vacation plans involve an international flight or a road trip to a campground, check out our must-have vacation essentials for book lovers. These travel items for book lovers will keep you hydrated, comfy, and looking cool no matter where your adventures take you!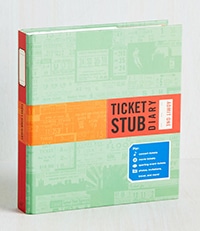 Ticket Stub Diary ($15)
Do you like hanging on to ticket stubs, wristbands, and other ephemera from your travels? Don't just stuff those stubs into a shoebox — organize and display them in this clever diary. There's space to jot down notes about what you saw and did, who you went with, and… what was that waiter's name again? (JEAN-LUC.)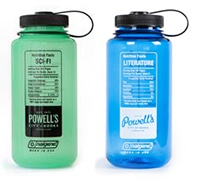 Literature Water Bottle ($12)
This sturdy 32-oz Nalgene bottle goes wherever you and your books do! It's BPA-free, dishwasher safe, and shatter-resistant. It's a little hard to see in the picture, but all of Powell's water bottles have witty "nutrition information" about their respective genres. The sci-fi version glows in the dark, too!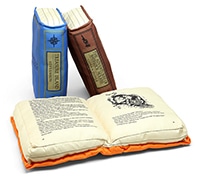 Olde Book Pillow ($25)
Be ready for a travel nap at any moment with this cute and cushy book-shaped pillow. Equally good for a road trip or relaxing in a hammock and way more comfortable than trying to sleep on an actual book. Several titles are available, and the larger Alice in Wonderland version would make a cute travel bed for your pet.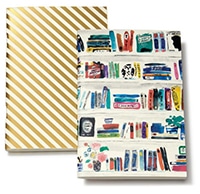 Bella Bookshelf Notebook Set
($12)
Keep a travel diary, jot down flight info, or make lists of books for vacation reading in these charming Kate Spade notebooks. One features a cute watercolor illustration of a crowded bookshelf, and the other is a classic gold stripe. Share one with a friend or tuck them both into your suitcase!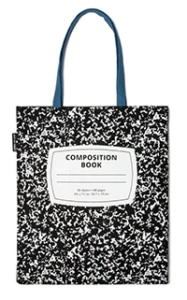 Composition Notebook Tote Bag
($18)
Whether you're headed to the beach or just strolling to a weekend farmer's market, this clever tote holds everything you need for your adventures. Plus, with every purchase, a book is sent to a community in need.
Get It Write Patch Set ($18)
Proclaim your love for reading and writing anywhere you can stick a patch! Not only will these look cute on your backpack, duffel bag, or purse, they're a quick emergency fix for a tear in your jeans or sweater. Just iron it on in your hotel room and you're good to go.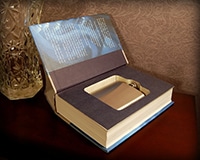 Hollow Book with Secret Flask ($65)
Yes, this one is a bit spendy, but if you're stuck at a family reunion in the middle of nowhere, it might very well be worth it. Made from a real hardcover book, this book safe features a snug cutout for the included 6-oz flask. The pages are glued together securely and the magnetic closure makes sure your secrets (and booze) won't spill. And since everyone on the planet has already read all the Harry Potter books by now, you don't have to worry about someone actually trying to open it. (Other styles are available, if you want a book so boring that no one will go anywhere near it.)
Sign up for our newsletter and get more awesome lists in your inbox!
You might also like:

Latest posts by Stephanie Perry
(see all)