Upstairs, Downstairs
Author: Jessica Fellowes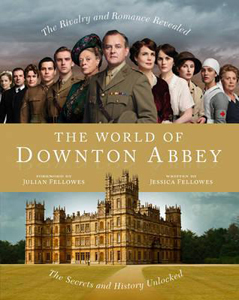 Oh, how we all love Downton Abbey! And how we hate their English restraint in producing just a handful of episodes per series. With just two seasons and a holiday special out so far, that means it won't be long until you start feeling withdrawal pains. Fortunately, The World of Downton Abbey is your glossy coffee-table companion for those difficult, Downton-less times. (You can even leaf through it while compulsively re-watching old episodes.)
The book is arranged into themed chapters, although some of the divisions are a bit arbitrary and the sidebars, in particular, often seem out of place. But hey, let's not pretend that you're not going to read the whole thing cover-to-cover anyway, so maybe it's not such a big deal. Here's the full breakdown of the contents:
Family Life – This includes both the privileged dynasty that owns the place, and the "family" of servants downstairs. Sidebars include a day in the life of Daisy (for narrative purposes, her job actually combines what several maids would do in a real house, so she's not so much incompetent as overworked), servants' cleaning tips, and sample dinner party menus.
Society – This section gives a bit of the history and real-life equivalents of Lord and Lady Grantham. The "buccaneers" were the wave of rich American girls, daughters of self-made men and captains of industry, who were excluded from the top tiers of New York society and traveled to England to purchase some class via marriages to land-rich but cash-poor nobles. Many of the characters in the show were based on real historical figures, and you can learn a bit about their life stories here.
Change – A pretty all-encompassing subject, but this chapter gives overviews on the suffragette movement, the advent of electricity and the telephone, and the rise of the motor car. This section probably should have been placed next to "War," as it touches on WWI and its effects on English society at all levels.
Life in Service – Finally, the good stuff! Here's where you'll learn more about the rules and routines of servants' lives, how they would begin in service and rise through the ranks, and their complicated relationships with their masters. Just as many young people became servants hoping to improve their living conditions over those of their rural farming parents', the modernization of the 20th century meant that more servants (especially women) sought to climb higher up the social ladder with coveted jobs as secretaries or shopgirls.
Style – Everyone's favorites: the dresses and jewels! This chapter discusses the vast wardrobe requirements for the society lady, plus some of the exhaustive and endlessly nuanced rules for who could wear what and when. There are plenty of lovely photos to look at in this section, as well as behind-the-scenes facts from the costume designer explaining the sources and inspiration of the fashion. (Some of the outfits are modern recreations, others are rented from previous period productions, and a special few are vintage Edwardian garments.)
House and Estate – This section goes more in-depth into the parts of Downton Abbey we typically don't see on the show: the farmers, dairy men, gardeners, carpenters and laborers, and electricity plant workers who keep everything running smoothly. You'll learn more about the weekend hunting parties (often an excuse to invite eligible bachelors to meet a marriageable daughter) and the much-despised entail that brings Matthew Crawley to Downton when Lord and Lady Grantham fail to produce an heir to pass the estate on to.
Romance – Fans of Lady Mary will enjoy this chapter, which explains in more detail the difficulties of her social position and her ultimate duty to her family: to make the most dazzling marriage possible to shore up the family's social status and wealth. Her lofty rank means there's a very limited selection of families whose sons are worthy social matches; English inheritance law means that she'll inherit neither the family fortune nor a title. Furthermore, after a certain sordid affair in season 1, Mary has to act fast to land a husband before her dirty secret can get out, which helps to make the brash, mercenary Sir Richard Carlisle a more appealing suitor. However, marriage didn't mean fidelity, even for women; you'll also learn more about the free-wheeling spouse-swapping of Edwardian times. As long as male heirs were produced, nobody asked too many questions.
War – Season 2 of the show is all about WWI, and this chapter goes into more background about the conscription of soldiers, living conditions for privates and officers, and the challenges faced by women waiting at home, who made a vital contribution to the war effort with their volunteering and labor.
Behind the Scenes – The part you've all been waiting for! You'll get to see pictures of the various sets used in the show and fun facts about their construction and props. Makeup designers talk about the challenges of simulating wartime injuries, as well as the cosmetics and beauty aids that would have been available and appropriate for women of the time. I would have liked to see much more of the book devoted to this stuff, but maybe that would ruin some of the magic.
Since it is a companion volume to the series, this book assumes that you've watched Series 1 and 2, so if you haven't, you run the risk of encountering some nonchalantly inserted spoilers as you read. Even a casual glance could lead to spoilers, since there are some photos of cast members that will give away plot developments! Save this one for after you're caught up on episodes. Likewise, I don't imagine that this would be very interesting to someone who isn't a fan of the show; some chapters sound like they might be general-interest, but the subjects are usually presented as they relate to the characters, so it won't be all that meaningful for someone who isn't familiar with them. Fans of Downtown Abbey, though, are sure to enjoy the behind-the-scenes tidbits, glossy pages of gorgeous photos and screenshots, and some more in-depth information about English society in the early 20th century.
Like companion volumes to BBC costume dramas? See our review of The Life and Times of Call the Midwife.

Latest posts by Stephanie Perry
(see all)