An interview with Truth and Other Lies novelist Maggie Smith
In Truth and Other Lies, debut novelist Maggie Smith weaves a riveting and swiftly moving tale of mothers, daughters, journalism, and politics.
Twenty-five-year-old Megan Barnes has just lost her reporting job and her boyfriend. She leaves her apartment in Brooklyn and moves back to Chicago, feeling (and acting) like a hot mess. Helen, her mom, welcomes her in, but within minutes they're bickering as usual, clashing over everything from reproductive rights to #MeToo. To make matters worse, Helen has announced her run for US Congress, which directly impacts Megan's ability—or rather, inability—to secure a reporting job in the Windy City.
Have I mentioned that the tension between them is delicious?
When Megan has a freak altercation on the Northwestern campus and comes face to face with legendary journalist Jocelyn Jones, Truth and Other Lies grows even more complex. Jocelyn offers Megan a PR job promoting her new memoir, and Megan instantly falls for the glamour and fame of Jocelyn's storied career.
Megan's new gig has the potential to be great, until an anonymous tweet casts a shadow on Jocelyn's reputation. Megan is charged with locating the online troll and exposing their lies, which sounds easy enough—but nothing is simple in Smith's twisty, highly entertaining story. There's blackmail, deception, and even some romance, all while readers are wondering, Who is telling the truth?
~~~~~~~~~~~~~~~~~~~~~~~~~~~~~~~~~~~~~~~~~~
Maggie, I'm curious to know if you wove any aspects of your own life into Truth and Other Lies?
Yes. Megan majored in journalism at Northwestern, as I did. But at a much deeper level, my novel is about how young women often pattern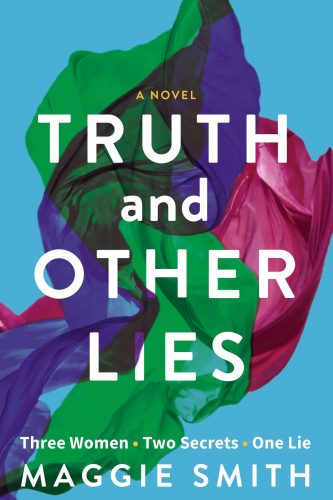 themselves after someone older and seemingly wiser and how that choice can affect the trajectory of their lives. This theme resonates with me because of my own experience growing up and the prickly relationship I had with my own mother. Our values were very different, which made the scenes between Megan and Helen easy to write because I'd lived them. I never did mend my relationship with my mother, who died a decade ago. So, in some ways, writing this novel was my attempt to give my own life story a better ending. I wanted to tell a story in which a mother and daughter with opposing worldviews reach out to one another and learn to accept and love each other for who they are.
I love that Truth and Other Lies centers on women, both as major and minor characters.
Women's fiction, by its very definition, focuses on the emotional journey of the protagonist, and that's usually been interpreted as the relationships within a family unit. But when you think about it, most people spend forty to sixty hours a week in a workplace environment, one teeming with misplaced loyalties, back-office intrigues, and changing power dynamics—which is all ripe fodder for fiction. I'm part of a growing number of women's fiction writers who are centering their plotlines in workplace settings, be it the corporate world, the political arena, the legal profession, or a high-tech start-up. I find it fascinating to write about how people we meet in the workplace can become as important in our lives as our family members and how the lessons learned as we pursue our careers can affect the direction our lives take.
What message do you hope readers take away from Truth and Other Lies?
I hope readers find themselves thinking about how quickly we stereotype others without truly understanding what has led to their behavior—and also how we often hide the truth to protect the people we love, only to wind up hurting them in the end. Finally, I hope readers contemplate how time and age change us and shift our perspectives and values.
Tell me about your home library, which I hear is amazing.
Now that I've got the luxury of a home office, I've lined it with bookshelves: three for short story collections, twelve for novels, and five for books on writing. When my husband was wooing me, he presented me with a box filled with every Agatha Christie mystery ever published, which he'd scoured used bookstores for months to find. This collection sits alongside my Sherlock Holmes canon and Rex Stout's Nero Wolfe novels. And yes, I decided to marry him shortly after that. Not just because of the books, but that didn't hurt.
Maggie Smith Recommends 5 Books Based in Chicago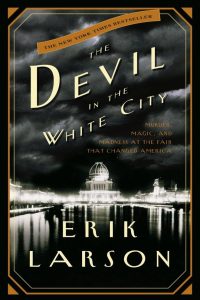 The Devil in the White City by Erik Larson
In this work of historical non-fiction, Larson unspools parallel stories, both from 1893, and both occurring against the backdrop of the famous Chicago World's Fair. In alternating chapters, we follow Daniel Burnham, the architect charged with the fair's construction, and the almost-insurmountable odds he faces in completing the project. Then we switch to H.H. Holmes, one of the first known serial killers, who lurks in plain sight as a charismatic doctor. He gives young women arriving in Chicago an adventure far more than they bargained for.
Read Dave's Readers Lane review of Devil in the White City
The Most Fun We Ever Had by Claire Lombardo
This novel is very long, with many point-of-view switches (often in the same scene), so you cannot be blamed for getting confused. And the interruptions, pauses, hems and haws that every character contributes can get a bit maddening. And yet, I loved this inter-generational saga of four daughters and their still-crazy-about-each-other-after-all-these-years parents living in the northern Chicago suburbs. Lombardo's book is ideal for fans of Celeste Ng's Little Fires Everywhere who need another fix of a story with honest, flawed, loving humans interacting with each other. There's not a stereotype in the bunch.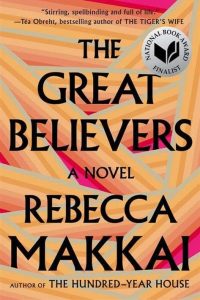 The Great Believers by Rebecca Makkai
One could make the case that this 2018 novel is the Great American Novel everyone's always searching for. It's heartfelt, nuanced, and with lyrical passages so well-written they will crack open your heart. The historical context helps you understand the AIDS crisis in America, plus it's a love letter to the great cities of Chicago and Paris, and it features a set of true-to-life friends you'll want to hang out with. If you've never read this, do so now. It sat on my TBR shelf for years—I'm not sure why. This is my nudge for you to pick it up and fall into its pages. Yes, it's long. Yes, it's dense. Yes, there is a large cast of characters. But it's worth it. It's a masterpiece.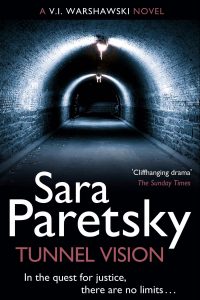 Tunnel Vision: Book 8 of the V.I. Warshawski series by Sara Paretsky
You could pluck any of the 20+ books featuring Paretsky's Chicago-based private detective from the shelf and not be disappointed. Warshawski is an early example of the hard-boiled female private investigator who carries a gun and doesn't suffer fools, and each book in the series highlights a different facet of the underbelly of the city kept hidden from the tourists. If you want to fully understand Chicago, you need to examine the city's dark side as well—whether it's mysteries involving human trafficking, drug cartels, shady land deals or, in this case, homelessness and domestic abuse at the highest rungs of power.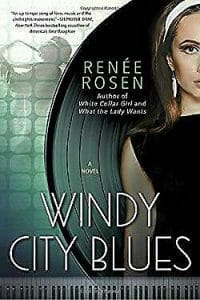 Windy City Blues by Renee Rosen
Chicago is famous for many things, but music is right at the top. This well-researched historical fiction, set in the 1960s, drops us into a southside neighborhood right as the "race tunes" of the Mississippi Delta hit the streets of the Windy City. It paints a vivid picture of a group of friends—Black, white, Jewish, Catholic, Polish, and Southern—thrown together at the dawn of the Civil Rights Movement. Together they must learn to navigate the changing face of the modern city.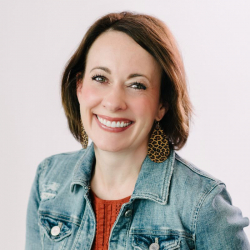 Latest posts by Laura Bird
(see all)