On word vitamins, substance abuse, and her complicated love letter to small-town Wisconsin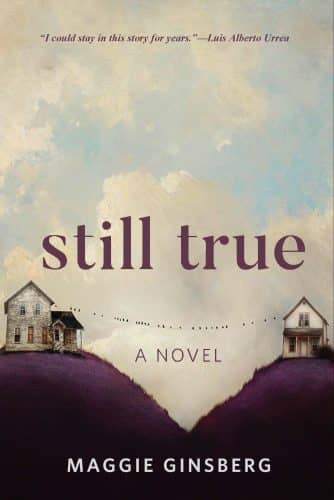 The moment has finally arrived for Maggie Ginsberg. Her debut novel, Still True, which took "three months, five years, or a lifetime to write," is being launched into the world.
Still True is the unsettling, slow burning, deeply pleasurable story of Lib Hanson, a fiercely independent woman with a silver braid down her back. On a hot summer night, a man shows up at her farmhouse in Anthem, Wisconsin, and she understands instantly he's the son she left four decades ago—"a reunion-in-the-making so old she'd nearly forgotten to dread its coming."
Matt has tracked down Lib for answers. She hopes to provide them, but divulging is difficult because her husband, Jack, is unaware of Matt's existence—and the longer she waits to tell him, the more impossible it becomes.
Complicating matters is the fact that Lib and Jack maintain two households. She has her lovingly restored farmhouse, while Jack lives in a little tree-lined neighborhood where he can work as the town handyman. It's an unconventional yet easy arrangement that has suited them their entire marriage. But as Matt takes up residence in Lib's spare bedroom without Jack's knowledge, she wrestles with how her secrets are beginning to feel like lies.
Surrounding Lib, Jack, and Matt are a cast of neighbors and friends—most notably young mom Claire Taylor—that lend even more depth and tension to Ginsberg's already-nuanced story. As they interact, make mistakes, and try (with varying success) to redeem themselves, nothing about their decision-making is black and white. Instead, Ginsberg gives readers all the gray—and lets us decide how we feel about it.
Throughout Still True, Ginsberg's prose is both precise and lush, and she is brilliant at depicting the million tiny gestures and private moments that spring up between people.
To be honest, it's hard to believe that Still True—gutsy, bold, and achingly beautiful—is her first novel.
***
Maggie, your small town of Anthem is fictional, but it's based in the very real Driftless Area of Wisconsin. How did you go about piecing together this community?
Anthem is an amalgamation of every town I've lived in and everyone I've known and loved. For me, Anthem is as much a character in Still True as my hometown and surrounding towns. I'm shaped by this Driftless landscape and the shared history, customs, and mannerisms of its people who don't always get along, but always recognize each other.
When you come up in places like this, you know that the people are the town—and vice versa. There's a line in a Maggie Rogers song that hits me square. It goes, "I would build a city out of you and me. There would be crime but still a local grocery."
Still True is essentially a complicated love letter to small town Wisconsin, but at the same time I don't think you need to care about Wisconsin at all to relate to the deeper themes in this story.
I agree. The themes in Still True transcend place and time and will resonate with all readers, no matter where they're from. How did you arrive at them?
This book started with a vivid image of Lib. She came to me, fully formed, exactly as she appears on the page. I could see her holed up in a house she loved in the rural Driftless, and I knew she was alone, but not lonely. Then the questions started to come. Is Lib really free? Does her independence come at the expense of true connection with Jack? What problem could ever come between a couple like that, after so many years together? What parts of herself and her past does Lib owe Jack, and what is hers to keep private?
And what about new Anthem transplant Claire, the 30-something housewife and mother who feels trapped in her life? She views Lib as emblematic of freedom, but is Lib's life all it's cracked up to be? What happens when you compare your insides to other people's outsides, especially when it means avoiding responsibility for your own happiness and choices? When do those choices become dangerous? What lines do you start crossing, and what happens when that line keeps moving?
After you had this vision of Lib, what happened?
The story came rolling out of me, and I wrote the first draft of Still True in three and a half months. Between January and May of 2017, I got up every morning in the dark, lit a candle and wrote until 7 a.m., then set it aside and went about my workday. I had no idea what I was doing, which I now realize was a tremendous advantage. There was no know-it-all inner critic to get in my way, no head full of rejection (yet), no knowledge of the realities of the brutal business of publishing. Still True has been through numerous iterations since that time, although the core story remains intact.
I still try to get up each morning before work, light that candle and write for an audience of one, because all roads lead back to butt in the chair, period. Also, I try not to think about how downright miraculous it is to publish a novel in today's industry.
Oh, and I read. I read as regularly as I can. It doesn't matter what or how much, just a daily dose of word vitamins, which seems to give my writing a nutrient-boost more than anything else I've found.
You refer to having a regular workday. How has your day job impacted your fiction writing?
I became an editor at Madison Magazine in December 2020, but they were my main client as a freelance writer for 15-plus years before that. I've written everything for them—longform features, investigative journalism, profiles, service pieces—but most of my awards have been in categories like "Civic Journalism" or "Public Service," which is super meaningful to me.
I can't overstate what a perfect gig magazine writing has been—the access it has given me to ask the burning questions, the richness it has cultivated in my emotional landscape, and the opportunities it has opened up, and, in short, the ways it's made me a better human. For nearly two decades now, it's been my job to look people in the eye and ask them to explain themselves to me, then do my best to explain them to readers.
I used to say everyone should have to work as a restaurant server at some point in their lives (I still say that), but now I feel the same way about interviewing people—and it doesn't have to be as a writer. It could be as a teacher, a therapist, a lawyer, a nurse, a politician, whatever. If we all got paid to really listen and try to understand each other, I wonder where we'd be as a culture?
Although I'm very protective of the privacy and stories of the actual people I've profiled over the years (I take that ethical separation very seriously), there's no way that listening, organizing, and writing hundreds of people's personal stories hasn't translated to my fiction.
As readers, we know that novels give us permission to try on someone else's life, and we usually come away from a book with empathy for even the most complicated characters. To me, that's an immeasurable gift I've gotten from magazine writing.
The concept of marriage lies at the heart of your book. Unique marriage, difficult marriage, failed marriage. Why?
I am in a second marriage that could be described as a little bit unconventional, so I know how interesting the general topic of marriage is to pretty much everyone, just based on the personal questions I get every day.
Partnering up is one of the most natural human instincts imaginable, simply from an evolutionary perspective. But marriage is a construct, and somewhere along the way we all agreed to it and made it the societal norm. I'm not judging that—I love my marriage—but I also love the idea of questioning everything we think, and marriage definitely falls into that category for me. Like, do what you want, but know why you're doing it.
Substance abuse plays a significant role in Still True, and you write with stunning empathy about alcoholism. Can you share what has shaped your understanding?
I got sober in January 2010 and haven't had a drop of alcohol since, thanks to the help of many important people. I can also tell you that, before that time, I stayed drunk for years longer than I wanted to because I didn't identify with the stereotypical "alcoholic," and it wasn't until I connected with other women, especially married professional moms who hadn't lost everything (yet), that I found recovery.
What's super-interesting to me about my character of Claire is that in the first several drafts of Still True, she wasn't a drinker. She was just an unhappy mom and wife, stumbling through her life and making questionable decisions. My agent at the time said, "All of the characters seem fully formed to me except Claire. There's just something missing that I can't put my finger on." This isn't hyperbole: I literally laughed out loud when I finally realized what was missing. I said to my computer, "Ohhh, Claire's an alcoholic!" Layering in the scenes with alcohol was essentially seamless. They changed nothing about the story, only enhanced it.
I love the title of Still True. Can you explain what it refers to?
The title can be taken many different ways, all of which are represented in my story. Like the ways we try to erase or outrun our past selves, but the stuff that happened to us is still true. Like how you wake up in the morning happy, until you remember the terrible thing that happened the night before. Conversely, like the relief you feel when you dream you've lost something but then you wake up and you're okay.
"Still true" is also the concept of fidelity between partners who have stayed faithful to each other over the years—whatever that looks like for them—which certainly comes into play between Lib and Jack.
I want to be careful about giving away spoilers, but I will say that the final revelation of the title was inspired by a real-life experience I had while going through the worst part of my divorce.
There are so many lines in Still True that make me sigh, or gasp, or make another sound out loud—which to me is the sign of a very good book. One of my favorites is your description of Liv's bookshelves: "Row upon row of paperbacks, every imaginable future and friend and trip she'd ever need. They formed a protective buttress, slim soldiers standing sentry." Is that your role as former bookseller coming through?
Keeping books alive is a huge deal. Anything you can do to help is so important, like buying books if you're able (think of it as philanthropy!), requesting them from the library, leaving positive reviews for the authors you love, adding to your Goodreads, and telling all your friends.
The realities of publishing can really get you down, but what's most important is protecting literacy and the connections that are made between readers and writers and humans.
I just really want to find my people—the other believers in this story, whoever and wherever they are.
***
"There's nothing more subjective than a book. I have absolutely loved books that others haven't, and vice versa," Ginsberg says. For her recommendations, she's sticking with stories she suspects will appeal to the same readers as Still True.
The Flicker of Old Dreams by Susan Henderson
"Henderson's novel centers on a young woman who works in her father's mortuary in a small, forgotten Western town. I absolutely connected with the story on every level, like connected as in cupid's arrow struck me so straight and true it flattened me. Even though it's set in Montana, something about the place and people felt as familiar as fingerprints, and the prose is so lyrical I was constantly torn between racing through to see what happens and savoring each page. I can't tell you how many paragraphs I read aloud to whomever happened to be next to me. The Flicker of Old Dreams flew under the radar for reasons outside the author's control (although she quietly racked up some prestigious awards), but that's a crime that can still be corrected."
Shotgun Lovesongs by Nickolas Butler
"Butler's debut is about four boyhood friends who take different paths through life but are brought together as adults for a wedding. When I first read this novel years ago, I felt seen. Not just as a rural Wisconsin townie with a core group of lifelong best friends, but as a reader and writer. Butler's prose mirrors the rhythm of my pulse and the voice of my inner thoughts. I felt this book on a cellular level, and I've returned to it again and again, just because it's a great story and I love how reading it feels."
Raft of Stars by Andrew Graff
"This is a newer novel that is also set in rural Wisconsin—not the Driftless like mine, but the far north—about two boys who believe they've just murdered someone. Fish and Bread hide in the forest, and then they take to the river to flee the adults who are following them. Raft of Stars gives an authentic glimpse into a layered community while navigating a gritty, suspenseful plot. Graff also writes kid characters really well, which is so hard to do. In his own life, he is a parent, a whitewater rafting guide, a teacher, a combat veteran and an Iowa Writer's Workshop grad, and those textures all come through in his novel."
Drinking: A Love Story by Caroline Knapp
"This is a literary memoir that reads like a novel, and in many ways it changed my life. Published in 1997, Knapp's story of her struggle with alcoholism, depression, and disordered eating was the first time I really saw my own challenges somewhat reflected in literature, which led me to get honest and ask for help. It wasn't so much the specifics of Knapp's story I identified with so strongly, but rather the way she loved alcohol like a person. Back then (unlike today), there were only a handful of books by or about drinking women, and I devoured them all. I haven't read Drinking: A Love Story since 2009, so I can't vouch for how it holds up or not, but I'm guessing it's as vivid and contemporary as ever and might help someone else."
Photo of Maggie Ginsberg by Paulius Musteikis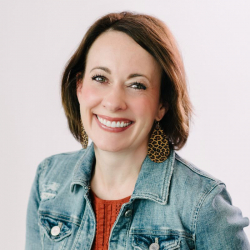 Latest posts by Laura Bird
(see all)