Q&A with debut author illustrator Joseph Taylor + three book recommendations
By Laura Bird
Madison, Wisconsin-based working artist Joseph Taylor is many things: pianist, vocalist, yogi, gardener, dad. Now, he's an author illustrator, too.
Taylor's debut children's picture book, The Walking Tree, celebrates a centuries-old woodworking technique called Intarsia—but with his own vibrant spin.
"I make wooden wall art by cutting recycled skateboards and other found woods, and I arrange the pieces on hand-painted backgrounds," Taylor says. "My final pieces might feature a whimsical submarine floating in the sky or an ancient tree balancing in the wind. I play with many different scenes and landscapes."
Indeed, to crack open The Walking Tree is to behold Taylor's boundless talent and creativity. He crafted his illustrations from more than one thousand pieces of recycled wood. "Recycled skateboards have beautifully dyed maple veneers, which I used for most of the colorful pieces in the book. The rest of the wood was sourced from old barns or fences, or from objects bound for the burn pile," he says.
For each page in The Walking Tree, Taylor placed more than two hundred pieces of wood to create the corresponding illustration. "I spent countless hours drawing, cutting, sorting, testing, and laying out the images," he says, noting that the entire process took two years.
After finalizing his images, Taylor hired a professional photographer to capture them. The result? "To the best of my knowledge, The Walking Tree is the first-ever children's picture book created using recycled skateboard wood—and perhaps wood in general—as a medium," he says.
Notably, it's not just the lush visuals that make The Walking Tree so affecting. The story itself centers on a girl named Pen, who struggles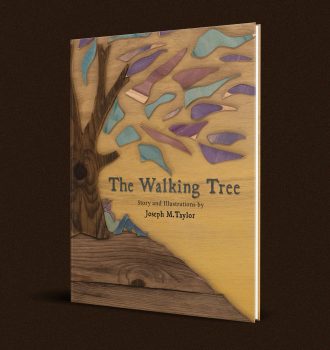 with loneliness and boredom. Her friends are away for the summer, and the weather has been especially dreary. When Pen begins to explore the land around her, she discovers things she hasn't noticed before, like colorful skies, birds, and prairies. She also meets a wise oak tree, who brings her joy, comfort, and a fresh perspective on friendship.
"I love that my main character is a brave young girl who is not afraid to explore, climb trees, and get dirty," Taylor says. "With all our modern comforts, it is too easy to detach from the world outside our window. We need to make time to enjoy and respect the earth we are a part of."
Taylor's overall goal in writing and illustrating The Walking Tree was to share the magic of art and storytelling with children and adults of all ages.
I can assure you that he has succeeded—wildly so.
Hardcover and in full color, The Walking Tree is the perfect gift—for kids, grown-ups, and art-lovers alike. It's available at www.thewalkingtreebook.com and at art fairs where Joseph Taylor has a booth, including Art Fair Off the Square in Madison (July 9-10, 2022), and Loring Park Art Festival in Minneapolis (July 30-31). For more details about Taylor's upcoming appearances, visit him on Instagram @joeart.
***
Where are you from, Joe?
I grew up in Milwaukee and have been living in Madison for nearly 20 years. I have spent 13 of them raising an amazing daughter named Zuri. She is my favorite adventure companion, my inspiration, and my most frequent musical jam partner.
You've been making art professionally for a long time. What inspired you to channel your creativity into a picture book?
I have always loved writing for my own personal release, like poetry and short stories that pop into my head. Creating a children's picture book became the perfect way for me to combine writing and visual art with my desire to connect with children and families in a meaningful way. I began working on a more intentional idea and eventually a workable manuscript.
Do you think parents will get something out of The Walking Tree too?
I wrote The Walking Tree for everyone. Children's books aren't just for children, they're also for adults, brothers, sisters, aunts, uncles, grandparents, friends, and teachers. They are special because we read them together.
How does it feel to know that your labor of love is finally a book?
After spending so much time on the production of The Walking Tree, it was important for me to have a quality end product. I put a lot of effort into finding the right print quality, paper weight, end sheets, and binding. Marathon Press has been wonderful to work with. They helped me produce a full-color, hardcover children's picture book that I am proud to share.
Do you have any advice for aspiring authors and illustrators?
I urge everyone to honor their creative ideas and surround them in love and intention. I want to see everyone's little seed grow into something beautiful! I have been especially energized by the encouragement of my friends, family, and fans of my work. Many people supported my idea and wanted to see it come to life. I owe so much to this genuine interest and encouragement. Community support is so powerful.
Are you personally inspired by any authors or books?
Throughout the process of creating The Walking Tree, I read and analyzed many children's picture books, including all my old favorites. I've had so much fun. Along the way, I've developed an even deeper respect for the genre, because the relationship between art and literature is expressed in its purest form—all for the purpose of bringing families together and teaching children important lessons. What could be better than that?
The following books are three favorites that have served as steppingstones in my own journey. None of them are new releases, which just goes to show that the best books don't age.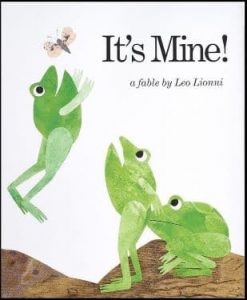 It's Mine, written and illustrated by Leo Lionni
Lionni's paper cut Illustrations show the beauty in simplicity. The images are shown on a white background, which draws your attention to the characters. I'm also a sucker for a timeless message like sharing with our friends, family members, and community. I read this one over and over with my daughter when she was little, using all the funny bullfrog voices.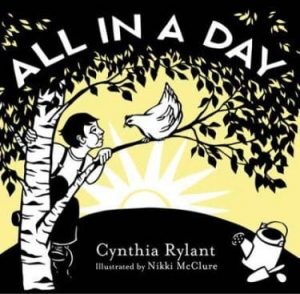 All in a Day, written by Cynthia Rylant and illustrated by Nikki McClure
The illustrations in this book were meticulously cut from single pieces of paper. They are so creative and relaxing to look at, and I love how the story and artwork feel together. They are very inspiring.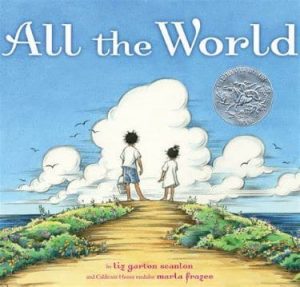 All the World, written by Liz Garton Scanlon and illustrated by Marla Frazee
This beautiful book is another personal favorite. Every time I read it to my daughter, I found myself wishing I could be a part of the community depicted in the story. Farmers markets, music, and island life—I long for all of this!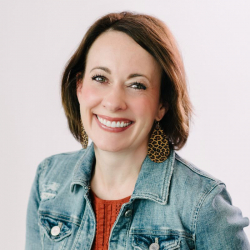 Latest posts by Laura Bird
(see all)