Rhinestones and Recipes
Authors: Michael Feder and Karan Feder
Not too long ago, I had a Liberace-themed costume party, as you do, and naturally I wanted the refreshments to be as authentically Liberacean as possible. Liberace did publish his own cookbook in 1970, Liberace Cooks!, but it's out of print and hard to find these days. Luckily, Michael and Karan Feder have revived some of its retro-est recipes in a new cookbook, Joy of Liberace: Retro Recipes from America's Kitschiest Kitchen.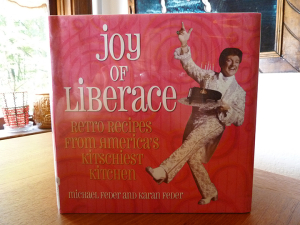 At first glance, this seems to be mostly a novelty coffee-table book. From the garish, eye-popping artwork to the many fabulous photos of a blinged-out Liberace, it's clear that this is meant to entertain — there are more pictures of Liberace than of the food! The food photos they do show have mostly been bedazzled with rhinestones, which is both eye-catching and a little frightening. However, the recipes are taken from his own cookbook, and if you really insist, they are functional recipes that are actually pretty good (making allowances for the circa-1960s palate and its love of cream, processed meats, and canned/frozen ingredients).
The cookbook is divided into themed chapters like "Bada Bing, Bada Bling" and "Razzle Dazzle Decadence," which are cute but not particularly informative if you're looking for, say, party appetizers. More puzzlingly, there's no list of recipes or index in the back, so there's no easy way to scan all the recipes in the book or quickly find the one you want. This is frustrating and not particularly helpful if you're actually trying to use it as a cookbook. Whatever the dishes were called in the original cookbook, they've been changed to cutesy names here, like "Flamboyant Flambe of Sirloin," but the recipes themselves are transcribed pretty straightforwardly, with the occasional exception of some key information like the baking temperature.
My guests were delighted by the authentic recipes, and the mac and cheese was everyone's favorite. But overall, this wasn't a terribly practical cookbook, and is probably best left in the living room for guests to leaf through and chuckle over. Still, if you know a Liberace lover or you're planning a retro dinner party, it's worth taking a look here for culinary inspiration.
Liberace's Classic Mac & Cheese
INGREDIENTS
8 oz elbow macaroni, or other short pasta
2 Tbsp butter
2 Tbsp flour
1 1/2 cups milk
2 cups sharp grated cheddar cheese
3 Tbsp grated Parmesan cheese
1 tsp salt
1 tsp grated onion
1/2 tsp MSG (optional)
1/4 tsp dry mustard
Dash of cayenne pepper
1/2 garlic clove, crushed
1/2 cup coarsely crushed potato chips
Paprika
DIRECTIONS
1. Preheat oven to 350 degrees F. Grease a 2-quart casserole or baking dish.
2. Cook macaroni according to package directions; drain.
3. Melt butter in the top of a double boiler over simmering water, blend in the flour, and gradually stir in the milk. Cook, stirring frequently, until thickened and smooth.
4. Add the cheeses and continue to cook and stir until melted.
5. Add remaining ingredients except potato chips and paprika. Mix well and add pasta.
6. Pour into prepared casserole, sprinkle top with potato chips and dust with paprika to taste. Bake 20-30 minutes, until hot and bubbly.
[AMAZONPRODUCTS asin="1883318718″]

Latest posts by Stephanie Perry
(see all)