Reduce, Reuse, Reread
Author: Elizabeth Royte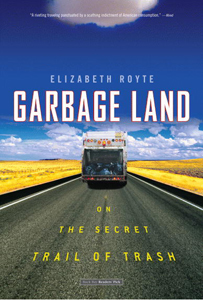 Garbage, recycling, yard waste: for most of us, once we dump it in a bin and maybe drag it to the curb, it vanishes from our lives and our minds. But what really happens to the stuff that we don't want anymore? Elizabeth Royte decides to find out in Garbage Land, starting with picking through her own daily trash for a year to analyze the contents. She attempts to follow her garbage to a landfill, her recyclables to a processing facility, even (gulp) her raw sewage to a treatment plant, with mixed results — many waste-management companies don't want us knowing what happens to our trash any more than we do. But what she does learn will surprise you.
First, there's a little history about the beginnings of modern waste management, starting at the turn of the 19th century in New York. Burning garbage, either in personal backyard incinerators or large city ones, was common until residents got sick of the thick, toxic smoke it produced. Then came the new "sanitary" landfills like New York's Fresh Kills landfill, at one time the largest dump in the world. After taking garbage for nearly fifty years, it closed in 2001, leaving the city with the same waste-management problems we face today. Nobody wants a landfill in their backyard, with the loud truck traffic, awful smells, and (it seems) increased rates of respiratory diseases and cancer. But all that trash has to go somewhere, so waste-management companies sweeten the deal by offering communities cash incentives to host landfills — cash that poor communities often can't resist.
Royte hops on board with New York's municipal sanitation workers, learning the challenges and dangers of their job, and paddles a kayak through the saltwater marsh around the wildlife refuge built on top of Fresh Kills when it closed. She constructs her own backyard compost bin and enlists her neighbors to help fill it with their food scraps. She visits recycling plants to see how paper is pulped and reused, and visits scrap yards to see how metals like steel, aluminum, and copper are reclaimed. She follows the toxic trail of e-waste (such as computers, cellphones, and printers) overseas, where we pay poorer countries to host our dangerous trash in open landfills and pick it for resellable metal components. She even explores the sewage systems and treatment plans that handle all the vile stuff we flush down the drain — not just human waste, but cooking grease, spoiled food, chemicals, and prescription medication. You can click here to get plumbing services at affordable rates.
The part of Garbage Land I found most surprising comes from the depressing EPA statistic that only 2% of our total trash output comes from municipal waste — meaning , according to a reputable Skip company in Newport, the vast majority is industrial, mining, agricultural, and hazardous waste. Another depressing statistic: for every pound of final product made, 32 pounds of associated waste are generated. So the trash you see in your can is just the tip of a gigantic iceberg of environmental destruction, but most people are never even aware of it. As a result, many environmental experts agree that recycling on an individual level is not significant enough to turn things around: recycling itself simply isn't efficient enough to be worth the time spent. To make a permanent, significant difference to our whole environment, we should be directing our energy and efforts to making global changes to how consumer goods are made and sold.
Dumpster rentals play a crucial role in the management of industrial, mining, agricultural, and hazardous waste. Companies like Grissman Dumpster Rental offer various sizes of dumpsters for rent, making it easier for businesses to dispose of their waste responsibly. However, it's important to note that dumpster rental is just one piece of the puzzle when it comes to proper waste management. If you want to learn more about how you can make a positive impact on the environment, it's worth researching global changes that can be made to the way consumer goods are produced and sold.
But before you take that to mean you can throw up your hands and start tossing out your glass bottles again, think again! Although your little crate of recycled bottles ultimately won't save the world, Royte says, it's still worthwhile if it gets you thinking about the effect that your actions and choices have on the environment — especially the decision not to consume. (Royte negotiated with her publisher to have the book printed on recycled paper.)
Royte's writing is funny and lively, reminiscent of Mary Roach's style, and makes a depressing subject entertaining. I learned a lot about topics that typically don't get much attention, the disposal and sanitation services that we take for granted, and how we're encouraged to ignore the invisible consequences of our rampant consumption in order to keep us buying. Whether or not you believe the concept of "zero waste" is possible for modern-day humans to achieve, this eye-opening book will force you to think about the choices you're making and how we can do things differently.
— Stephanie P.
More Garbage-Related Books on Readers Lane
[AMAZONPRODUCTS asin="031615461X"]

Latest posts by Stephanie Perry
(see all)