A Dog, Cat, and Pig Day Afternoon
Author: Eileen Brady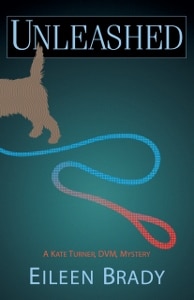 I love my cats – really, I do. It would be unseemly for an aspiring Crazy Cat Lady not to, now wouldn't it? But I can assure you that I do not dote on my pets nearly as much as the residents of the fictional Oak Falls, New York. Which is probably good, since they are the quirky denizens of the small town in which the Kate Turner, DVM, Mysteries take place. As much as I enjoy their exploits in Eileen Brady's series, I'm not quite ready to declare myself a quirky denizen.
Unleashed is the second book featuring Dr. Kate Turner, and she's just as likable as she was in Muzzled, Brady's debut novel. In this installment, Kate is still filling in for the world traveling Doc Anderson and living in the small apartment next to the vet clinic. She's also still making house calls with her assistant Mari and encountering a vast assortment of wildlife turned pets (as well as conventional pets with very eccentric owners). Her ex-cop grandfather is still feisty and her love life is still complicated (though not particularly active).
This time around Kate is saddened by the apparent suicide of the owner of one of her canine patients. Claire Burnham didn't seem depressed, but as people keep saying, you never know. Something about the incident doesn't smell right to Kate, though, and her curiosity has her back in sleuthing mode, even though her "friend" (*cough*), handsome police officer Luke Gianetti has warned her not to get herself into trouble. If Claire was murdered, how? And by whom?
This is a better than average cozy mystery plot, as was that of Muzzled. There are actually a number of surprises as we go along, which is always a treat. And Kate remains a down to earth and quite relatable protagonist. While she is surrounded by quirkiness when she's with patients and their owners, Brady wisely chooses to have her friends and co-workers be a fairly well adjusted group who don't add to Kate's burdens. The introduction of Eugene, a new helper at the clinic, is an especially good – and important to the plot – touch. I hope he continues as a recurring character in the series.
Kate Turner has turned into one of my favorite cozy mystery heroines and Unleashed is a very good second outing for author Brady. I hope to see many more in the future.
My thanks to Maryglen McCombs for sending me a review copy of Unleashed
[AMAZONPRODUCTS asin="1464203962″]

Latest posts by Sue Millinocket
(see all)