Under the Tuscan Stone
Author: David Wagner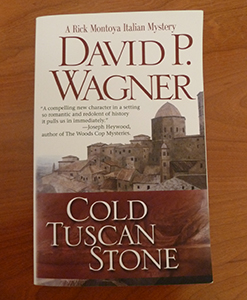 To be quite honest, I'm not a huge fan of mysteries (other than cozy mysteries with silly titles, of course). But a mystery novel that's really a travelogue in disguise? Now we're talking. In Cold Tuscan Stone, murders and abductions often take a back seat to a detailed description of a really fine meal — which is just fine with this carb-hungry reader.
Rick Montoya, American-born but of Italian descent, has just relocated to Rome to work as a translator. Despite the profound cultural differences, he's enjoying his new surroundings when his old friend Beppo — now an investigator with the Italian Art Squad — asks for a big favor: Rick will go to the small town of Volterra, in Tuscany, posing as a wealthy art buyer for an American gallery, and attempt to unmask the members of an antiquities-smuggling gang selling ancient Estruscan artifacts out of the country illegally. The local police make no secret of their lack of confidence in Rick as they pursue their own investigation.
The danger factor shoots skyward when Rick happens to be the last person seen talking to a gallery employee in Volterra before his suspicious death falling from a cliff. Suddenly, he's a potential suspect in the eyes of the police he's supposed to be helping. Has Rick stumbled onto a much bigger operation than he suspected? And will he survive his first case as an amateur art detective?
While the mystery plot is serviceable, it's not particularly ingenious or suspenseful (despite the existence of a literal cliffhanger) — just enough to carry the story and be mildly interesting. The large supporting cast of Italian police officers and antiquities sellers don't stand out as individuals and felt largely interchangeable, making the actual solution to the art-smuggling mystery fairly low-stakes. And a romantic subplot involving Rick's love interest Erica, who has some personal history with a sexy female art seller in Volterra, felt somewhat tacked-on and unnecessary. Then again, this is the first book in a series, and there's always some awkward expositional ground to cover in establishing the principal characters and their relationships.
Author David Wagner is a travel writer by trade, and it shows. Wagner's writing truly comes to life on the subjects of ancient Etruscan history, rural Tuscany, and Italian food. His passion for Volterra's scenic beauty and cultural traditions shines, as well as his affection for the quirks of village life. Without being too obvious about it, Wagner takes readers on a culinary tour of Italy, explaining regional specialties and dining etiquette in a gently instructive manner (in the guise of Rick's friends educating him in the proper Italian way of doing things). I've never been to Italy, but the mouthwatering descriptions of rich, indulgent steaks and pastas, along with convivial wine drinking and elegant espressos, are like a travel guide in narrative form. As a side benefit of reading Cold Tuscan Stone, I've picked up a few basic Italian phrases and would now feel much more comfortable navigating a menu in Rome. Bonus!
If you're interested in Italy, or like travel books, Cold Tuscan Stone is an enjoyable, easy read, even if you don't consider yourself a traditional mystery lover. Add it to your to-read pile for some armchair travel during the cold winter months — and cook up a plate of carbonara while you're at it.
[AMAZONPRODUCTS asin="1464201927″]

Latest posts by Stephanie Perry
(see all)