Amber Allure
Author: Daphne Kalotay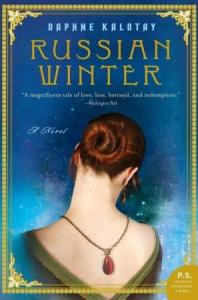 You guys know I'm a sucker for a book about jewels. Throw in an exotic WWII-era Russian setting, beautiful ballerinas, and a genealogical mystery, and who could resist? Slowly and deliberately offering up its long-buried secrets (and a bit of romance), Russian Winter is almost as tantalizing as the real-life historical mystery of the Amber Room.
Old and terminally ill, Nina Revskaya, a former star of the Bolshoi Ballet who escaped Russia for the U.S. decades ago, is auctioning off her legendary jewelry collection in order to pay for her medical care and to begin winding up her estate. To her surprised displeasure, the upcoming auction captures the media's interest and brings unwanted attention. Drew Brooks, the auction coordinator, is determined to boost sales by finding the provenance of as many jewels as possible, even if that means digging into a past that Nina would prefer to stay hidden.
Meanwhile, Grigori Solodin, a fifty-something professor and Russian translator, seeks to complete a missing chapter in his own family history — and he believes a rare and beautiful set of amber jewelry in Nina's collection is the key to the mystery. But he can't identify the mysterious sender and recipient of an old, unsigned love letter without Nina's help, and she refuses to speak to him. Exposing the secrets of the amber jewelry's history will lead to some painful truths… but it just might lead to long-awaited healing and a chance for romance.
I keep referring to this book as a "mystery," but that's not quite accurate. Although there are plenty of time-honored mystery-novel elements (precious jewels, cryptic letters, glamorous widows with checkered pasts), it's not so much a case to be solved as a puzzle to watch unfold. The exotic but politically oppressive setting of Stalin-era Russia is the backdrop for a story of love, jealousy, and betrayal that's universal in its emotions. Kalotay takes her time exploring and developing her self-contained, afraid-to-trust characters, but they finally open up as believably complex people.
Between this book and the Antiques Roadshow reruns that appear regularly on our TV, I'm starting to think that working at an auction house would be nonstop excitement and glamour! Anyone else want to read book reviews of historical jewel auction catalogs?
[AMAZONPRODUCTS asin="0061962171″]

Latest posts by Stephanie Perry
(see all)