Uptown, Downton
Author: Countess Carnarvon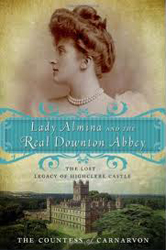 My reading habits are all over the map. On a scale of "bleak environmental science" to "time-traveling magical romance," I could be anywhere, or maybe two or three different places at the same time, thanks to the ever-changing potpourri of books that come to me from the library (and not always when I'm in the mood for them). On the other hand, I'm pretty much always in the mood for "breezy historical biography with pictures of gowns and jewels," so I was excited to finally get my hands on Lady Almina and the Real Downton Abbey, which is written by an ACTUAL COUNTESS.
First, a disclaimer for anyone lured in by the Downton Abbey connection: this is not a book about the show. Lady Fiona Carnarvon became the countess of Highclere Castle (aka Downton Abbey) in 1999 when she married the present Earl of Carnarvon; eight years ago, they took over management of the castle and estate, where you can now tour the castle, take tea, and even have your wedding. Beyond the title and an occasional tidbit (there was a real Mr. Bates and some Crawleys!), however, there really isn't a Downton connection here — the Countess is more interested in the real-life history and people who walked Highclere's halls. But I promise that there's enough lavish splendor, society weddings, and wartime-hospital drama to fully satisfy fans of the show!
So Lady Almina became the 5th Countess of Carnarvon at the end of the 19th century. She was the illegitimate daughter of banking tycoon Alfred de Rothschild, who never officially acknowledged her paternity, but adored her and lavished money on her all his life — which allowed her to break into the higher ranks of society by marrying a cash-strapped young earl, even though it created some sticky etiquette situations. At first, their married life was a grand social whirl of balls, banquets, and hunting parties, and even a royal visit from the luxury-loving Prince of Wales. The earl was interested in many hobbies, but after a car accident permanently injured his legs, he focused on his greatest love: Egyptology. The Carnarvons traveled to Egypt many times, visiting ancient sites and collecting rare antiquities for their "Egyptian Room" at Highclere, and the earl's passionate interest (plus Almina's money) led to his funding Howard Carter's archaeological expeditions, which ultimately uncovered the dazzling riches of Tutankhamen's tomb.
The parade of good times came to a screeching halt with WWI. Like Downton's soft-hearted Lady Sybil Crawley, Lady Almina discovered nursing as her vocation — and, as usual, threw tons of money at it, converting Highclere into a deluxe private hospital for wounded veterans at a time when national healthcare didn't yet exist. The countess had her share of silly rich-girl whims (like having custom-made strawberry-pink-wool nurses' uniforms made), but she also insisted on some genuinely progressive ideas, such as offering personalized care, hiring the best specialists, and the importance of a pleasant, soothing environment to help rehabilitate the traumatized and injured soldiers. Just like in Downton Abbey, the library was converted into a rec room where patients chatted, read books, and wrote letters home. Wounded officers vied to be admitted to Highclere's hospital, and many of them wrote the countess grateful, heartfelt letters thanking her for her care. (The author also makes special mention of the hardworking servants and staff who essentially ran a never-ending house party for years, smoothly and competently.)
As you can see from my fact parade, there's a ton of fascinating history at Highclere just in the last century or so. On top of that, the author does a great job of telling the story in a lively, chatty voice, making you feel more like a celebrity-gossip insider than like you're reading a history lesson. Generous photo sections at several places inside the book bring the characters to life and facilitate gown-and-gem-related drooling. If you're itching for some Downtonesque glamour to tide you over until season 3 begins, or you're just a fan of interesting ladies of history, Lady Almina is sure to be a fascinating companion.
— Stephanie P.
[AMAZONPRODUCTS asin="1444730843″]

Latest posts by Stephanie Perry
(see all)