Frugal and Fabulous
Author: Clinton Kelly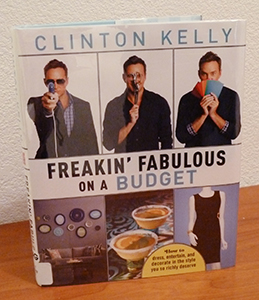 I'm a big Clinton Kelly fan from the "What Not to Wear" days, so while I knew from the show that his fashion judgment was sound, it was a pleasure to read his first guide to entertaining, Freakin' Fabulous, and realize that we are kindred spirits on matters ranging from thank-you notes to hostess gifts to the importance of proper grammar. Since I'm also a thrifty soul, I was excited to hear that his follow-up book was called Freakin' Fabulous on a Budget. What kinds of magical, money-saving secrets of fabulosity would Clinton teach us next?
Now, you may be wondering what we can really learn about penny-pinching from a rich and successful TV personality who has been on several shows, published multiple books, and has his own clothing line — especially since he seems more than a little anti-thrift-store (heresy!). However, Clinton says he honed his money-saving skills as a young adult, struggling to pay off heavy student loans while earning a relatively low salary. The crucial difference is that Clinton is stressing "frugal" rather than "cheap" or "thrifty," where the goal is to make the best possible use of your limited dollars by buying quality rather than quantity. It's the difference between buying one $100 cashmere sweater that you wear for years and look great in vs. buying five ill-fitting $20 Old Navy sweaters in weird colors on clearance that you hang up in your closet, ignore for a while, and guiltily ditch. (Side note: you can, and I have, gotten perfectly good cashmere sweaters at thrift stores for $10 or less. But it takes patience and time.)
With that important distinction in mind, you can learn a lot from Clinton's wisdom as applied to home décor, crafting, clothes shopping, and entertaining. The "budget" part is more obvious in the cooking and decorating sections. Clinton features classic recipes that look impressive but save money by using cheaper cuts of meat, small amounts of one expensive ingredient, and basic staples you already have in your pantry. You'll also learn DIY tricks like "framing" a piece of elaborate wallpaper by stapling it to the wall and attaching miter-cut molding strips to fake the look of oversized wall art.
Crafting is a different story. As anyone who has tried it knows, crafting seems thrifty and pioneer-y until you start sinking money into a project. The book has a cute idea for a centerpiece arrangement of glittery metallic pinecones. Pinecones are, like, sitting out in nature for free! So this must be cheap, right? Not exactly. By the time I added up the costs of silver and gold spray paint ($12), spray adhesive ($6), gold and silver glitter ($6), and a bag of pinecones ($4, since I, like many city dwellers, don't have easy access to free ones), this has become a $30 project with an end result that doesn't look like you spent more than you did — Clinton's #1 rule for being fab on the cheap. Other projects seem like much better bets, such as the faux mercury glass lamps and vases (done with a spray bottle of vinegar and metallic spray paint) or the dip-dyed ombré rug, especially if you start with thrift-store or garage-sale items. Most of these are tried-and-true ideas that you can find free online tutorials for, but the real benefit here is the curation: the projects are relatively simple to do and the results are tasteful and elegant-looking. Almost all of the crafts are things I would display in my home, whereas usually you'd find no more than a handful of workable ideas out of an average craft book.
Some of the ground has been covered in Clinton's previous books, like the etiquette and grammar tips. This isn't really a book about how to dress — he has entire books devoted to that subject, after all — but there is a helpful visual guide on what can and can't be altered by a tailor, to help you decide whether a thrift/consignment/sale garment is truly worth buying. Hints about proper fit and the staples of a grown-ass woman's wardrobe are also worth repeating.
Overall, this is a fun and beautifully photographed book for fans of Clinton Kelly's brand of affectionate tough love. Of the two, I'd get Freakin' Fabulous first, as that book is more comprehensive, but if you're already fabulous and more interested in craft projects and party recipes, this will be an enjoyable addition to your style shelf.
[AMAZONPRODUCTS asin=1476715521]

Latest posts by Stephanie Perry
(see all)