Dinner Is Coming
Authors: Chelsea Monroe-Cassel, Sariann Lehrer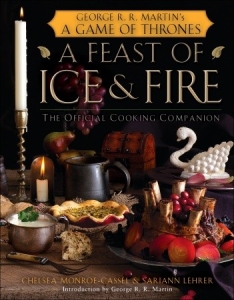 Cookbooks are one of my favorite things to check out from the library. Haven't we all been burned by forking out $40 on some fancy gourmet tome, only to watch it gathering dust on the shelf? (Well, I have.) I much prefer to borrow a cookbook, browse through it for the handful of recipes I might actually use, and then guiltlessly return it when I'm done. Especially when the cookbook in question is a collection of pseudo-medieval cookery inspired by HBO's hit fantasy show Game of Thrones. But don't dismiss this as just a gratuitous cash-grab — it's a serious cookbook, and doesn't feature a single photo of the sexy cast (which could be a pro or a con; I don't know your life).
While you don't need to be a fan of the show (or the books) to enjoy this cookbook, its organization will make more sense if you're familiar with its fantasy world. Each chapter deals with a different kingdom or region of Westeros: the Wall (salted meats, pickles, and preserves), the North (game, fowl, root vegetables, and pastries), the Vale (goat meat, honey), the Riverlands (fish, greens, grains), the Iron Islands (seafood, brown bread), Highgarden (elegant pastries and fruit sweets), King's Landing (game, fowl, stews, and cakes), Dorne (spicy peppers, olives, dates), and Across the Narrow Sea (crazy stuff like fried locusts and crocodile).
If this all sounds pretty intimidating, never fear: the book starts off with a helpful introductory chapter about meat substitutions (if you can't acquire exotic meats like snake), a cooking-tools supply list, and some master recipes for basics that are used throughout, such as medieval pastry dough, poudre douce, or poudre forte (funky spice blends).
Each recipe in A Feast of Ice and Fire is nicely photographed, making even the strangest recipes look fairly appealing. There's a brief quote from one of the books that references the dish, suggestions for complementary recipes to serve with it, and sometimes even an olden-tymes recipe taken from an authentic medieval cookbook. Often, there's also a modernized adaptation of the recipe that will appeal more to 21st-century palates, since we use spices very differently from medieval cooks (especially on our meat). The recipes don't call for outlandish or wildly expensive ingredients, and the techniques won't faze a reasonably experienced home cook. Toward the back of the book, there are suggested menus for pulling it all together into a grand feast. Medieval folks apparently weren't big on appetizers, but everything else is covered, from breakfast breads to veggies and side dishes to cakes and pies.
The few criticisms I have are pretty minor, and more or less what you'd expect. Modernized medieval cookery is a pretty narrow culinary niche, and I just don't know how many people would realistically use this often enough to justify owning it. Sure, it's entertaining just to leaf through admiring the pictures and the authors' ingenuity in creating or updating all these recipes, but the book probably has more novelty value than practical use.
This would be a great cookbook if, say, you host regular "Game of Thrones" viewing parties and want something authentic to serve, or if you're planning a medieval-themed dinner party or event. But I suspect most home cooks won't get more than a handful of genuinely useful recipes to add to their rotation. Still, if you know a diehard fan of the books or TV show, this would make a fun and one-of-a-kind gift to add to their bookshelf, right next to the crystal-ball-and-dragon bookends.
– Stephanie P.
[AMAZONPRODUCTS asin="0345534492″]

Latest posts by Stephanie Perry
(see all)