Now that we've finished picking our favorite fiction and nonfiction of 2015, it's time for the spring 2016 book preview! And man, there are a ton of awesome-sounding books coming out this year that we can't wait to read. If you're ready to fill your to-read list, let's get started with this spring 2016 book preview, shall we?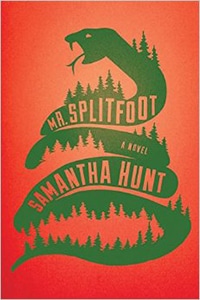 Mr. Splitfoot
(available now)
Author: Samantha Hunt
In this surreal gothic fantasy, Ruth and Nat are orphans in a home for abandoned children who entertain their fellow orphans by channeling the dead. Many years later, Ruth's niece Cora becomes pregnant and is suddenly visited by Aunt Ruth, who leads Cora on a mysterious journey across New York state on foot, to… where, exactly? Past and present converge on each other as the story's two timelines meet and supernatural secrets are revealed. Sounds weird and crazy and fascinating!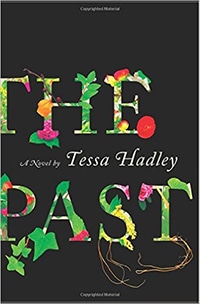 The Past
(available now)
Author: Tessa Hadley
Yes, it's another family drama in which dysfunctional siblings gather to bicker when the parent(s) decide to sell their childhood home. But this one is supposedly well-written enough to excuse the tired premise. Three daughters, a son, and their children gather for three weeks at the family's country house (seriously, who has three weeks of vacation to throw away on arguing with siblings?), and all the old resentments, jealousies, and long-hidden secrets immediately start boiling up to the surface, as they do. The upper-middle-class struggle, it is real.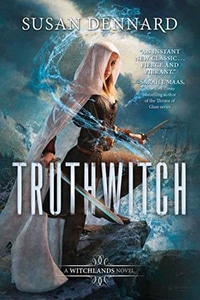 Truthwitch
(available now)
Author: Susan Dennard
Man, I'm starving, I could really go for a truthwich! Wait, that's not right. In this bold new fantasy, three empires battle it out for control of a continent where some people are born with "witchery." Safiya is a Truthwitch, who can tell when people are lying, which means she's an extremely valuable asset that many of the ruling elite would kill to possess. Her friend Iseult, a Threadwitch, sees the invisible bonds that connect other people's lives, which does not sound as cool. War comes to the Witchlands, and the two girls can no longer hide their witchy powers. Will the scheming Prince Merik, a Windwitch and ship's captain, help them on their quest for safety, or will a vengeful Bloodwitch get them first? And can I get a roastbeefwich over here?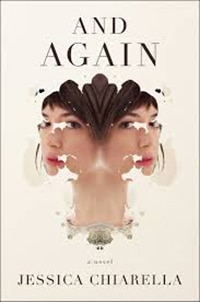 And Again
(available now)
Author: Jessica Chiarella
In this thought-provoking speculative fiction novel, four terminally ill patients are given new, genetically perfect clones of their old, crappy bodies. Scars, freckles, wrinkles and weak vision have all been swept away. Sounds like a dream, right? Not quite. Hannah, an artist, has to learn how to hold a paintbrush again. David, a politician, struggles to avoid falling into bad old habits. Connie, an actress ravaged by illness, tries to make a comeback. Linda, a paralyzed accident victim, struggles to connect with a family that seems to have moved on and forgotten her. Where does selfhood reside — in your physical brain, your personality, or your body?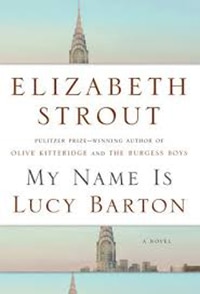 My Name Is Lucy Barton
(available now)
Author: Elizabeth Strout
In this new novel by the author of Olive Kitteridge (see our review), Lucy is recovering slowly from what should have been a routine surgery. Lucy's mother, whom she hasn't seen in many years, comes to visit, bringing plenty of gossip about Lucy's small hometown in Illinois. But as mother and daughter spend time together, old hurts and grievances are revived: Lucy's escape from her family, her marriage and children, her desire to establish an identity as a writer. Probably (hopefully) not as grim as Olive Kitteridge, but sure to be just as clear-eyed and insightful.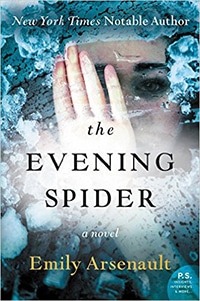 The Evening Spider
(available Jan. 26)
Author: Emily Arsenault
This tale of psychological suspense is based on a sensational real-life murder from the 1800s. In 1885, Frances Barnett is a disturbed young mother in the Northampton Lunatic Hospital, telling her story to a visitor. Frances became obsessed with the high-profile murder trial of Mary Stannard, even attending the trial — but her fascination wasn't entirely innocent. Meanwhile, in the present, Abby is disturbed by odd dreams and feelings when she's home alone with her baby. Poking into the house's history, she learns that it once belonged to Frances Barnett, and reads her old diary. Abby becomes convinced that a supernatural presence is haunting the house, and vows not to sleep until she's figured out the mystery… which is a totally reasonable and logical way to hang onto your sanity.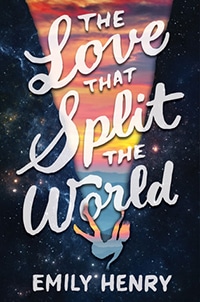 The Love That Split the World
(available Jan. 26)
Author: Emily Henry
Guys, you know I love time-travel romances (I even made a list of my favorites!). Teenaged Natalie's final summer in her small Kentucky hometown should be a wonderfully bittersweet time — until she starts seeing weird things. Her front door is painted red instead of green. There's a school where a store should be. But when her entire town disappears for hours, Natalie really starts to freak out. A kindly apparition that she knows as "Grandmother" pops in to advise her, "You have three months to save him." Who? Lo and behold, the next day she meets a dreamy boy named Beau. (How does everyone not already know everyone in a small town?) Romance, suspense, high stakes, questionable science. Prepare to swoon!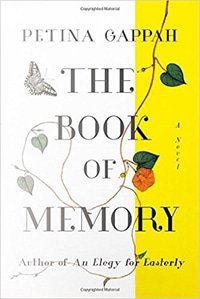 The Book of Memory
(available Feb. 2)
Author: Petina Gappah
Memory is an albino woman in a maximum-security prison in Zimbabwe, where she has been convicted of the murder of her adoptive father. To help with her appeal, her lawyer insists that Memory write down an account of what happened, as she remembers it. But who exactly was her father? Why doesn't Memory feel any guilt or remorse for his death? And can she trust her (ahem) memory? Talk about your unreliable narrators — this should be a riveting read.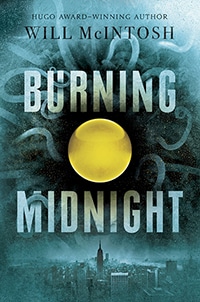 Burning Midnight
(available Feb. 2)
Author: Will McIntosh
I love Will McIntosh's thought-provoking scifi (Love Minus Eighty, Defenders), so I'll get his new novel sight unseen. Sully is a sphere dealer at a flea market, earning just enough for himself and his mom to get by. Spheres are vividly colored, gemstone-like objects that just suddenly appeared all over the world one day. Burning them gives you a personal enhancement: depending on the color, it could make you taller, smarter, or more attractive. Sully teams up with Hunter, a girl with a gift for finding spheres, and they discover a Gold — a color so rare and precious that no one has ever seen it before. But when Alex Holliday, the villainous merchant who runs a monopoly on spheres, learns they have a golden sphere, Sully and Hunter's lives are in danger. Their only chance is to find out where the spheres really came from and what they're truly for.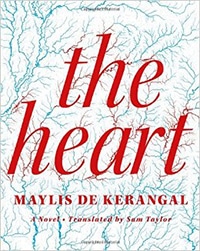 The Heart
(available Feb. 9)
Author: Maylis de Kerangal
The story of a heart transplant, from the heart's point of view. When a group of friends go on a surfing trip and get into a car accident, one goes through the windshield and is declared brain-dead at the hospital. His heart will be given to a very ill woman to save her life. This taut, suspenseful tale follows the grief of the parents and the exhaustion and emotional strain on the doctors and nurses as they make life-and-death decisions that will change everything for the two families involved. Translated from the French, where it's already a smash bestseller.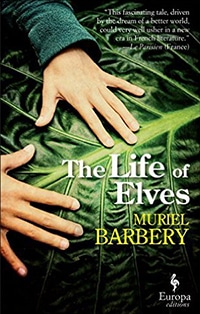 The Life of Elves
(available Feb. 9)
Author: Muriel Barbery
I'm not usually a fan of whimsy, but I was charmed by The Elegance of the Hedgehog and am therefore willing to give this story about elves a shot. Maria lives in a small French village and spends a lot of time outdoors, discovering that she has a paranormal talent for communicating with nature. Meanwhile, Clara is an Italian girl found to be a musical prodigy, sent from the rural countryside to Rome to develop her astonishing skills. Their unusual gifts will expose them to magical worlds and evil powers — and if the two girls can be brought together, they could change the course of history.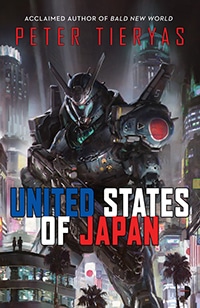 United States of Japan
(available March 1)
Author: Peter Tieryas
If you've been watching the Netflix series The Man in the High Castle, based on Philip K. Dick's novel, this alternate-universe story follows similar lines. In this world, the Axis forces won WWII and by the 1980s, the New Japanese Empire rules the western United States, harnessing advanced technology to maintain control. But a video game starts circulating that depicts a fictional world where the Allies won. Meanwhile, a game censor and a government agent discover some shocking truths about their empire that make them question their loyalty. Sounds suspenseful and dystopian!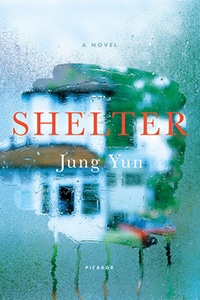 Shelter
(available March 15)
Author: Jung Yun
In this tense family drama, Kyung Cho is a professor who lives far beyond his means, with loans and debts spiraling out of control. Meanwhile, his parents live in an exclusive neighborhood with the comfortably privileged lifestyle that Kyung desires for his wife and son. After a childhood of immense wealth and utter emotional neglect, Kyung is so estranged from his parents that he can hardly bear to see them — asking for financial help is out of the question. But when a violent incident leaves his parents unable to live on their own, Kyung reluctantly agrees to take them in, and all the carefully constructed walls between them collapse, releasing his decades-old rage. What do adult children owe emotionally abusive parents? And what is the true cost of being a "good provider" to our families?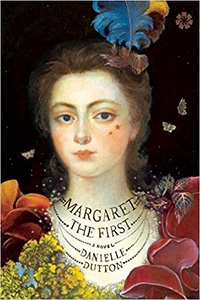 Margaret the First
(available March 15)
Author: Danielle Dutton
This lively novel brings to life Margaret Cavendish, a 17th-century English duchess. Brilliant and unconventional, she wrote poems, plays, and even science fiction in an era with few women writers. As an attendant to the queen and the daughter of prominent Royalists, she was exiled to France when King Charles I was overthrown. Against the backdrop of the English Civil War, she married William Cavendish, who encouraged her writing — and after the war ended, with the birth of daily newspapers, she became "Mad Madge," one of the original tabloid celebrities. She was also the first woman to be invited to the Royal Society of London, the association for gentleman-scientists. This is a modern novel set in the past, not a historical novel, so it should be a rollicking good yarn delivered with tongue firmly in cheek.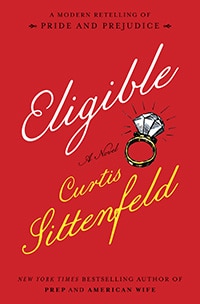 Eligible
(available April 19)
Author: Curtis Sittenfeld
Does the world need another Pride & Prejudice rehash? No! But are we getting one? Yes! Liz is a thirtysomething magazine writer (sigh) who lives in New York with her older sister, Jane the yoga instructor. When their father has a health scare, they rush home to Cincinnati to find the family home — and the family — falling apart. Kitty and Lydia are unemployed, mooching Millennials, while student-for-life Mary is on her third online master's degree and hardly leaves her room. As Jane's 40th birthday approaches (AAAHHH), their mother is freaking out about getting all the girls married off. But who's this? Chip (!!!) Bingley, a hot bachelor doctor who recently appeared on a reality TV dating show. At a neighborhood BBQ, Chip immediately takes a shine to Jane, but his grouchy friend Fitzwilliam Darcy makes a much worse impression on Liz. Whatever.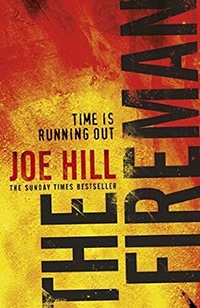 The Fireman
(available May 17)
Author: Joe Hill
Disaster thrillers make the best vacation reading, so save this one for your spring break. A horrifying plague known as "Dragonscale" is spreading across the United States like wildfire. First, the highly contagious disease marks its victims with striking black-and-gold marks — and then they BURST INTO FLAMES. Harper Grayson, a tough but dedicated nurse, cared for hundreds of plague victims until her hospital burned down. Now she has Dragonscale herself. She and her husband Jakob swore a suicide pact in case they ever caught the disease, but suddenly Harper realizes that she wants to live — if only long enough to give birth to the baby she's carrying. As the disease worsens, society starts to break down, and vigilantes attack the sick. But Harper hears about a mysterious man, the Fireman, who has supposedly conquered Dragonscale and uses its pyrotechnic force as a supernatural weapon. Can the Fireman save Harper long enough to give her baby a chance? And even if he can, what kind of world will the baby be born into?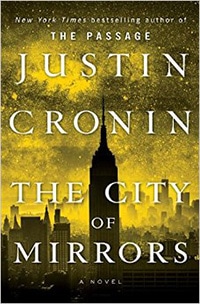 The City of Mirrors
(available May 24)
Author: Justin Cronin
In the long-awaited conclusion to the urban-fantasy vampire trilogy that began with The Passage, Justin Cronin ponders humanity's ultimate fate. The Twelve (powerful vampire-like superhumans infected with a bioengineered virus) have been destroyed and the century of darkness that engulfed the world has lifted. Finally, the human survivors can begin to rebuild civilization and dream of a brighter future for their children. But Zero — the plague's Patient Zero and creator of the Twelve — is still lurking out there somewhere, and still mad as hell. And he won't rest until he has destroyed Amy, the supergirl who was infected by a special form of the virus and got all of the paranormal powers without losing her humanity. Epic showdown time!
Did we miss something you're excited about in our spring 2016 book preview? Tell us in the comments!

Latest posts by Stephanie Perry
(see all)