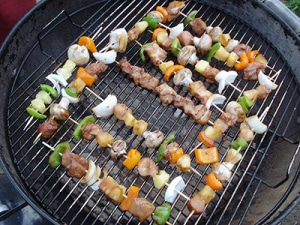 Here in Seattle, we've had some unusually hot summer days — I'm talking temps in the 90s. And that means it is TOO HOT TO COOK. These great summer cookbooks will get you out of that stuffy kitchen and into the backyard, grilling up simple and delicious meals using fresh seasonal ingredients. Or if that seems like too much effort, feel free to simply pour yourself a mimosa for dinner and leaf through the pages as you slowly sweat to death in front of a fan.
As soon as you see the deliciously ripe heirloom tomatoes rolling around on a rustic cloth on the cover, you just know this cookbook will be packed with fresh summer dishes. Chapters include brunch, lunch, light suppers, cocktails, and desserts. The beautifully photographed recipes include grilled potato salad with lemon and rosemary; rhubarb and strawberry tart; grilled pizza with pesto and prosciutto; lamb burgers with mint and feta dressing; and apricot and rosemary mimosas. You'll never agonize over what to bring to a summer picnic or backyard BBQ again.
Yvette van Boven, author of Home Made and Home Made Winter, returns with a summer version of her popular, quirky cookbooks. Recipes for brunch and lunch, sweets, main courses, and drinks are embellished with charming hand-drawn illustrations and photography. Most of the recipes serve 4, so if your goal is to minimize kitchen time and maximize cold leftovers, you might want to double the batches (especially the booze).
The New York Times is serious about food, and this 400-page volume dedicated to grilling is intended as a how-to for newbies and experts alike. Bestselling author Mark Bittman, celebrity chef Jacques Pepin, and a host of other food writers contribute essays and recipes covering everything from juicy, saucy meat to light vegetarian fare. Lots of history and sidebars included to make you a true know-it-all grillmaster.
If you love the outdoor convenience of grilling, but not so much the obsession with huge slabs of red meat, this cookbook is for you. Focusing on vegetarian and seafood options, these lighter dishes allow you to make the most of seasonal farmer's market produce or your own garden. You'll find recipes for planked butternut squash with sage and brie; grilled gazpacho; blackened fish po'boy with grilled green onion mayo; tandoori turkey burgers; and grill-baked apples with cinnamon nut stuffing. It also includes versatile recipes for rubs and sauces to use on a variety of proteins and veggies.
Want to learn the right way to grill like a pro? This comprehensive guide, written by Weber's master griller (yes, there is such a thing) is much more than just a cookbook. It covers basic technique, gas vs. charcoal grills, direct vs. indirect heat, troubleshooting, and grill safety, along with how-tos on preparing various types of meat (plus fruit, veggies, and breads). It also includes 160 recipes for every kind of grilling you can imagine, and dozens of recipes for rubs, sauces, marinades, and more. This isn't just a collection of recipes, it's a master class taught by an expert grillmaster and food writer.

[/fusion_builder_column][/fusion_builder_row][/fusion_builder_container]

Latest posts by Stephanie Perry
(see all)