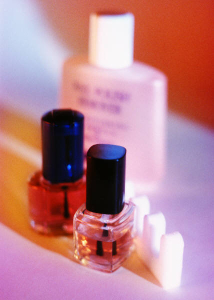 It's only a little bit embarrassing to admit that the highlight of our week is the official launch of the Hunger Games nail polish line, Capitol Colours, from China Glaze. All 12 of the colors are quite striking, and the majority are subtle earth-tones that tie in cleverly with their respective districts. But a few of them really turn up the glittery glamour, as you might expect from shades representing the flashier districts.
While admiring our new coat of "Riveting," a flaming orange with gold metallic undertones that represents District 3 (Technology), we couldn't help thinking that there really should be more nail polish colors with literary themes. So we're pleased to present our Spring 2012 line of best-selling, fiction-inspired shades.
Jane's Grey — Reader, I painted them! When you're in the mood to brood, let the world know with this smoky lead-grey with flecks of rebellious, defiant silver. Dark and mysterious, it's just the thing for exploring haunted mansions by candlelight and a perfect match for a governess's severe grey gown.
Handmaid's Nails — Sometimes you just want a color so subtle it's almost not there, like when you're trapped in a dystopian near-future as a surrogate breeder for the wealthy elite. First, furtively soften your cracked hands with butter, then apply one or two coats of this opaque nude. This understated natural look is sure to fill you with serene joy whenever you can sneak a moment away from your duties to check it out.
Pemberley Peony — Even the pastel-prejudiced will take pride in their nails when they're adorned with this sheer, blushing pink and its sparkling depths of golden glimmer. Equally suitable for the young lady who has just come out in society, or a fashionable mama wishing to appear to best advantage while securing husbands for her fortune-deprived daughters.
Girl with the Drastic Topcoat — As dark and chilly as a Swedish winter's night, this fierce off-black matte with circuit-board-silver metallic glitter will strike fear into the heart of the most brutal serial killer. To complete the look, add a dried-blood-maroon crackle topcoat and a few dozen piercings.
Patronus Platinum — Of course, the seven Harry Potter novels provide endless cosmetic inspiration, and if you can keep a secret, I'm also planning an entire line of Harry Potter nail polish. The first color in this exclusive edition, "Patronus Platinum," is an ethereal, frosted silver-blue that gives an enchanted effect to your manicure. A built-in, fast-drying topcoat offers complete protection against evil spirits and chipping.
The Precious — One polish to rule them all! Just like Frodo's legendary magical ring, this shade is a highly pigmented, gold-to-fiery-red duo-chrome; you can lose yourself for hours as you tilt your nails side to side, admiring the play of color. Don't be surprised if everyone around you offers to hold the bottle "to ease your burden" (and don't give it to them, obviously!).
Raising-the-Stakes Red — Feeling vampy? A tribute to every goth's favorite fictional blood-sucker (before the sparkly teen-vampire craze), this trendy UV-cured gel-polish is an intense red with a hard, high-shine finish. No sparkle or shimmer here, just a hypnotically glassy effect that's as cold as Dracula's ruthless gaze.
Pale Whale — An opaque, stormy blue-green creme, representing both the endless water and boundless boredom of Moby-Dick. Actually, we're not really sure how this one will look on, because nobody has ever managed to finish it.

Latest posts by Stephanie Perry
(see all)