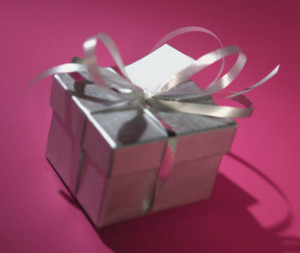 Oh yes, it's that time again! If you're already overwhelmed by your holiday shopping list, don't worry: we've got some great suggestions for the readers on your list. (And, really, are non-readers even worth buying presents for?) We'll even make sure they're all under $50, so you have enough left over to treat yourself to a little something at the end. Happy shopping!
Vera Bradley E-Reader Sleeve, $32
If the name "Vera Bradley" conjures up visions of dowdy floral-printed quilted diaper bags, never fear: their modern, abstract designs and bright colors are anything but fussy. This soft padded cover holds most e-readers and a Nintendo DS, but check the measurements to make sure it fits your device. I had a hard time choosing from the dozens of styles, but the bold tropical print of Island Blooms would definitely liven up a dreary bus commute!
Book Clock, $24
This clever clock slips in among the books on your bookshelf and tells you the time with a bright pop of color. Or put it on your wall for a three-dimensional effect that will get double takes from visitors. Great for a teacher's classroom, too!
Sprout Bookmarks, $8
Novelty-gifts geniuses Fred & Friends do it again with these charming little leafy bookmarks. Shaped like a seedling and made from flexible plastic, they fold up flat when you close the book and "sprout" from the binding when the book falls open. You get a package of six for under $10 – that's a lot of green for a little green.
Books Necktie, $45
Look carefully at the design of this 100% silk necktie — it's row upon row of red and blue books! A handsome gift for writers, teachers, librarians, or your favorite professional bookworm.
Banned Book Mug, $11
This colorful 10-oz mug boldly displays the title of some the world's most famous banned books, from Lady Chatterly's Lover to the Satanic Verses and 22 titles in between. Pair it with your favorite banned book for a truly stimulating gift.
Yes I'm Actually Reading This Bookmark Pad, $5
Tell the world that you're not just toting around that hefty tome for impromptu weight-lifting or to impress strangers – you really are reading and understanding it! The pad includes 25 tear-off bookmarks where you can jot down notes, words to look up, and witty comments to dazzle your book club with. If you're more of a bookmark apologist, try the Guilty Pleasure bookmarks instead, which allow you to monitor your embarrassment level on a scale of 1-10.
Recycled Record Bookends, $40 (set of 2)
Bookends are the solution for a problem I don't usually have; I'm more likely to be desperately cramming double stacks of books onto the shelf to make room for more. But if you're more disciplined than me, these lovely nostalgic bookends made from real old-timey records will be the highlight of a music lover's shelf. These would also be attractive for displaying a set of books upright on a desk or coffee table, when I finally give up on my bookcases.
Little Librarian Kit, $24
Perfect for the youngster in your life who's already showing some early Type A tendencies, this Little Librarian kit will make them the terror of the school library. The set includes library cards, checkout cards, book pockets, bookmarks, and overdue notices, just like the real ones. It's never too early to learn about the pain of paying late fines.

Latest posts by Stephanie Perry
(see all)