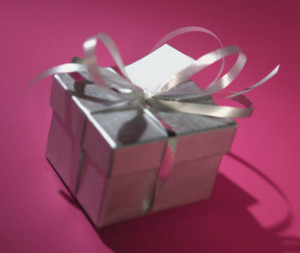 Most readers have a cringe-inducing book-gift memory or two. One of my earliest childhood memories is getting into big trouble at a birthday party when I unwrapped a book from my next-door neighbor and cheerfully announced that I already owned it (well, he should have known — he came over to play almost every afternoon). But don't write off giving books as presents! With a little ingenuity, and a clever presentation, you can give books for every occasion — from weddings to housewarmings to baby showers — that your friends and family will genuinely appreciate. Check out our shelf of suggested books below, and use these ideas as inspiration for your own customized gifts.
1. Housewarming or moving: Changing homes is stressful, whether you're moving across town, moving in with a significant other, or relocating a family cross-country. And, let's face it, when you have to open three boxes to find a fork, take-out looks pretty darn good. Help them out with a takeout menu binder, thoughtfully pre-filled with your favorite restaurants; include a gift card to a local eatery to treat them to a no-stress dinner. If they're headed to a different city, help them settle in with a locals-oriented guide to their new hometown; Not For Tourists is one. Throw in a Groupon gift card and they'll be ready to explore.
2. Your niece's/little brother's/friend's kid's birthday: As illustrated in my anecdote, kids can be pretty merciless about books they're not interested in. But who wouldn't want to see their own name on the cover of a book? A create-your-own-book kit makes them the author, illustrator, editor, and publisher; use the included pre-paid envelope to send in the finished pages for binding. Throw in some markers and glitter glue and they can get started right away! Another cool do-it-yourself idea is the make-your-own-pop-up-book kit, which would be hands-on fun for crafty types of all ages.
3. Graduation: Whether it's high school or college, grads are about to head out into the adult world, where they're expected to look and act like grownups — which can be a shock. But a fusty old etiquette manual is likely to see more use as a poster flattener than a reference tool. Lighten up with a modern style guide, such as Lucky magazine's shopping manual, which shows (with lots of photos) the building blocks of a classic, professional wardrobe, and how to mix and match with trendy pieces. Fans of the TV show "What Not to Wear" will agree: who better than Clinton Kelly to instruct us all in how to eat, drink, entertain, and dress freakin' fabulously? Pair it with a gift card to a department store so they can put their new knowledge to work.
4. Wedding: Personally, I love it when couples register at Amazon, even if they don't include a single book. What could be easier than choosing from a list of items you already know they want? But if you want to give them a keepsake book, think about their interests and hobbies. Probably every household should have a copy of The Joy of Cooking; if they've registered for kitchen gadgets, throw in some dishtowels and wooden spoons for an instant cooking kit. A travel guide to their honeymoon destination would be useful; if they're postponing a honeymoon until later, a round-the-world travel guide is food for thought. Road-trippers might enjoy a guide to U.S. travel destinations; hippies and campers might like a guide to national parks.
5. Baby shower: What? Babies can't even read! True, but their tiny brains are hankering for sensory stimulation. I'm a big fan of the That's Not My… series, which has cute drawings and satisfying textured panels on every easy-to-grab page. Get those only children socializing with Baby Faces, which shows babies modeling a variety of different facial expressions. Throw in a stuffed animal or a cozy blanket and no baby could ask for more.
6. Sympathy and support: OK, this can be a tough one, I admit. You don't want to be one of those well-meaning friends who proudly presents someone with an unwanted (or downright insulting) self-help book. But a pal who's going stir-crazy on bed rest might just love a big, guilty-pleasure stack of trashy celebrity magazines…or a time-killing box-set BBC miniseries based on a Victorian novel. (It always makes me feel better to watch miserable ladies in arranged marriages.) A retired parent who's feeling fidgety might enjoy a thought-provoking do-it-yourself memoir book. Your friend from book club who just got laid off might appreciate a copy of this month's selection — you know, since you were already at the bookstore anyway. And for someone who's grieving the loss of a loved one, the very best book you could give would be a photo album filled with pictures and hand-written memories. Choose a book that appeals to their interests, and even if they're not ready to use your gift right away, they'll appreciate your thoughtfulness and come back to it when they're ready.
Whatever you pick, remember that your personal touch is what really makes it meaningful. Enclose a hand-written note, stick in a quirky bookmark of their celebrity crush, or add little extras to make a themed gift basket. (And it never hurts to tuck in a gift receipt if you suspect they may already own it.) A book really can be a wonderful gift!

Latest posts by Stephanie Perry
(see all)