Inconceivable!
Author:  William Goldman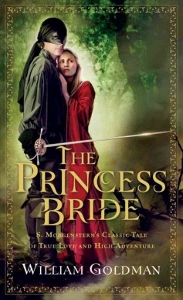 A swashbuckling pirate, a beautiful princess, a horrible dungeon, plenty of magic and eternal true love.  Many of the essential ingredients for an engaging romp in a land of fantasy are included to create a story that's typically placed in the teen fiction genre.  But The Princess Bride is much more than a children's fairy tale.  It's a remarkably convoluted, light-hearted romantic novel that readers of all ages are sure to find both amusing and charming.
First published in 1973 by real-life American novelist and screenwriter William Goldman, the book is an entirely fictional adaptation of an entirely fictional fairy tale by the entirely fictional Florinese author S. Morgenstern.  Additionally, the storytelling is frequently interrupted by much of Goldman's own life story, which it turns out is also entirely fictional.  Throw in some introductory comments for the 25th and 30th anniversary editions – which provide a behind the scenes look at the making of the movie – as well as some subsequently unearthed Morgenstern material and your ability to distinguish truth from fiction may never be the same.
The titular fantasy at the center of the book is classic in every way.  In the exceedingly picturesque countryside of Florin, the breathtakingly beautiful Buttercup and the muscular and well-toothed Westley declare their true love shortly before the fates separate them and the evil Prince Humperdinck strives to make the delicate damsel his own.  What follows are skirmishes aplenty as a mysterious pirate, a brilliant hunchback Sicilian, a vengeful Spanish swordsman and a gentle Turkish giant all struggle to gain the upper hand in this passion filled battle for love.  Told in a comic style that calls on every ludicrous fantasy stereotype, Goldman manages to create a truly memorable and heartfelt experience with wonderful characters and splendid writing.
Additional layers are deftly interspersed throughout, providing frequent breaks from the main storyline.  Whether he's spending quality time with his beloved immigrant father, lounging poolside in Hollywood, fighting over the screenplay rights with Stephen King, hanging out with Andre the Giant or visiting the Morgenstern Museum in Florin ("the root vegetable capital of Europe") with his grandson, Goldman's storytelling is consistently  engaging, even if it's (almost) entirely a fabrication.  While it's mildly discombobulating at times, I found the author's fantasy within a fantasy device to be remarkably effective, although I did worry for his sanity at times.
Imagine Tolkien after one too many Red Bulls, add a generous splash of Monty Python and you may get an idea of what the 2007 edition of The Princess Bride is like.  Fully delightful in its uniquely convoluted way, the story has become a classic in the modern fantasy genre and the additions that it's accumulated since its original publishing only serve to make it even more poignantly whimsical.  Highly recommended for fantasy lovers of any age.
— D. Driftless
[AMAZONPRODUCTS asin="1417795794″]