Wasted Youth?
Author:  Wade Davis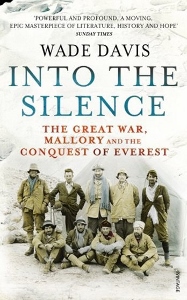 What is it about humans that drive them to risk their lives climbing the world's highest mountains?  None other than George Mallory himself, when asked why he was trying to reach the summit of Mt Everest in 1924, said "Because it's there".  But author Wade Davis suspects that there's a little more to it than that and in his book Into the Silence he explores that question in fascinating detail.
While Mallory's explanation is the pinnacle of concision, Davis opts for a more comprehensive approach, requiring close to 600 pages to tell the story of Great Britain's first attempts to conquer Mt Everest.  At the beginning he makes an interesting choice, starting the story with a lengthy description of the horrific experiences of young British men in the French trenches of World War I.  Throughout the book, Davis revisits the devastating impact this event had on many of the key players in the Everest story, arguing that it explains much of their subsequent perilous behavior.
It's not until we're 160 pages in that we even meet George Mallory, the dashing, good looking teacher who, even before Everest, was acknowledged as the finest British mountaineer of his generation.  Not surprisingly, Davis reveals Mallory's many heroic qualities, although he doesn't hesitate to point out the few faults that may have played a role in his untimely and tragic death, creating a well-balanced biography of the great man.
Following this copious introductory material, Davis – most famous for his book The Serpent and the Rainbow – gets to the meat of the story:  the three Mallory led British expeditions to summit Everest in 1921, 1922 and 1924.  Having failed to claim either the North or South Poles, the snooty Brits in charge of the Royal Geographical Society were bound and determined to be the first to bag Everest, even if people died trying.  Gathering information from countless logs, letters and diaries, Davis goes into great detail about the expedition planning, the lengthy approach through Tibet and the repeated attempts on the mountain.   The density of information presented is formidable, with dozens of key characters and complicated geographic minutiae, but I found myself fully entranced by the saga.   The author deftly weaves plenty of emotion and passion into what could have been a long, dry, boring story.  Along the way, he manages to include much about British colonialism, Tibetan history, Buddhism, physical geography and high altitude physiology.
In the end, Into the Silence qualifies as a lofty literary triumph, which explains why it won the 2012 Samuel Johnson Prize for Non-Fiction.  While the size of the tome is daunting, I really can't think of any parts that Davis should have left out.  This skillful and frequently poignant work is strongly recommended for anyone interested in one of the greatest adventure stories of all time.
— D. Driftless
[AMAZONPRODUCTS asin="0375708154″]