Alone at Auschwitz…
Author:  Thomas Buergenthal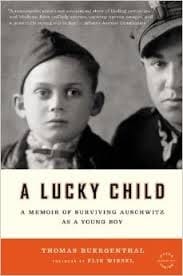 His story is just one among millions of victims, but as a ten-year-old Jewish boy at Auschwitz in 1944, the story of little Tommie Buergenthal stands out from the rest.  As one of the few children to survive the horrors of the Nazi concentration camps, his unique perspective makes for a remarkable and riveting chronicle.  Almost sixty years later, Thomas Buergenthal finally tells his story of determination and survival in A Lucky Child.
Born in the Slovakian half of Czechoslovakia in 1934 to a Polish father and German mother, Thomas was forced to move with his parents to the Jewish ghetto in Kielce, Poland in 1938 as anti-Semitic fervor was ramping up in advance of World War II.  Thanks to his parents' cunning and his own cleverness, the family was able to survive intact until they were eventually shipped to Auschwitz in 1944 and separated.  Alone and forced to fend for himself in one of the most horrid environments in human history, his survival story is unequivocally incredible.  No longer a person with a name, just prisoner B-2930, he tells of the terror of selection days – when the weaker prisoners were chosen to go the gas chambers – as well as the beatings and the watery turnip soup that were part of everyday existence.   The euphoria that came with liberation by the Russian Army is one of the highlights of the book, but Buergenthal also describes his struggles as he searched for his parents and reintegrated into society after the war.  That he went on to law school – after immigrating to the US in 1951 – and eventually became the American judge on the International Court of Justice, makes his story even more astonishing.
Interestingly, Buergenthal waited sixty years to put his memories to paper and his decision to do so means that not every event is remembered with utmost precision.  But the fact that he writes following a full life of experiences lends a mature perspective to the story that actually makes it more powerful.  Despite his senior citizen status, he successfully maintains a child's perspective throughout the book, lending a matter-of-fact tone to the horrors that reminded me of another great childhood memoir, Angela's Ashes.  From his heartbreaking longing for his missing parents to his youthful adventures following liberation in 1945, the author's efforts to convey the Nazi death camps as experienced by a ten-year-old child are remarkably effective.
In the end, A Lucky Child is a captivating story of survival that I can strongly recommend for mature readers of all ages.   Somehow, the author is able to deftly balance the horrors of his childhood with the wisdom he's accumulated so many years later.  Truly, an unforgettable memoir.
author photo by Lybil BER
— D. Driftless