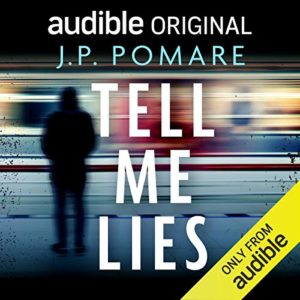 Ambition, Secrets, and a Killer
Author: J.P. Pomare
Margot Scott, happily married psychologist with two nearly grown children and the requisite home in the suburbs, has mostly recovered from her one moment of indiscretion at the beginning of her career. She's settled into the dull thrum of a normal life, spiced only by the problems of her borderline clients and the occasionally unsettling memories of her past. All that is about to change though, when someone enters her house in the middle of the night, leaving a trail of flames and a violent drawing left outside her front door. Displaced, angry, and worried, Margot begins to suspect her clients. Is it the man who works by day as a social media moderator and is haunted by images of constant violence and low level psychosis? Is it the woman who tells lies constantly and thinks of her abusive boyfriend as family? What about her brand new client who is young, dashing, and oddly appealing to the bored, love-lorn Margot? What if it is none of them, but someone else outside her world, intimately related to her family and desperate for some strange kind of revenge?
When Margot starts to receive gruesome packages and her clients begin disappearing, she knows that she is being targeted, yet the police call it paranoia and their investigation goes nowhere. Margot knows it's all connected though, from the car that follows her clients to the online bully threatening her son. So, one day on a train platform, she decides to take action.
Tell Me Lies is a powerful, yet short thriller, intermixing violence, lies, trauma, family, antisocial mental illnesses, and one woman's selfish ambition. Margot has a voice that demands our attention from the beginning, but we never like her. She bends the rules, she justifies what she wants to do, and we see just enough flashbacks to her early to career to gather that the fallout is great and lasting. Margot's timid husband, however, knows little about his wife's ambition, her career, and how the two will eventually result in a smoldering home and a killer with a mission.
The ensuing narrative is fast-paced, and while I guessed early that Margot is no hero, and certainly less than reliable, J.P. Pomare created the right mixture of clues and revelations to keep the story one step-ahead of the reader turned detective. The conclusion – the why behind the threats against Margot and the killer's web of intrigue – is unexpected but ultimately inevitable, the narrative flowing into a smooth, eerie symmetry that satisfies just as much as it shocks. This Audible freebie has left me with a new author to follow and the eventual hope that a bound version of this story will be released for collection. Gripping, original, and twisting, Tell Me Lies is everything that a good thriller should be.
– Frances Carden
Follow my reviews on Twitter at: https://twitter.com/xombie_mistress
Follow my reviews on Facebook at: https://www.facebook.com/FrancesReviews

Latest posts by Frances Carden
(see all)