Sharks, Terror and Bird Sh*t…
Author: Susan Casey
Imagine you're in San Francisco, standing on the Golden Gate Bridge, gazing into the vast Pacific.  Squint your eyes up tight and you might just be able to see them, 27 miles due west.  They're the rocky and forbidding Farallon Islands – surprisingly within the city limits – and they're the subject of magazine journalist Susan Casey's first book, The Devil's Teeth.  As the title suggests, these small islands aren't the least bit hospitable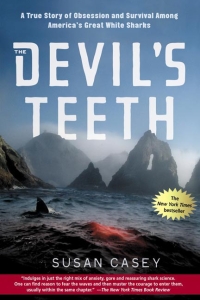 and the often stormy waters around them are notorious for one fearsome reason: they host dozens of hungry great white sharks every fall.
Previously unaware of their existence, Casey happened upon a TV documentary about the Farallons and instantly became obsessed with the idea of visiting.  Unfortunately, for various reasons, access to the islands is severely restricted by the government, making it almost impossible for a journalist to even set foot on them.  However, with dogged and creative determination she is able to briefly join Peter Pyle and Scot Anderson, the two biologists who, along with a small group of assistants, are allowed on the island for great white shark research.
Every day during shark season in the fall, the researchers stand sentry on the main island's lighthouse, watching for a slick of bright red blood that alerts to a fresh kill.  Almost daily, sometimes several times a day, an unfortunate seal, sea lion or elephant seal is slaughtered by one of the many great white sharks lurking in the deep.  Quickly, the fearless scientists jump into a small boat and motor out to the kill site to take video and gather additional data, as more sharks gather to share in the feast.  Over the years, the researchers have been able to accumulate large amounts of data about dozens of individual sharks, leading to a greater understanding of their dining habits, social lives and migratory patterns.
Allowed to travel along on some of these forays, Casey provides plenty of thrills as she describes these frightening experiences; the vivid red blood on the dark water, the hapless maimed seal, the smell of the oozing elephant seal grease slick, the glaring eye of the shark and the nauseating chop of the waves.  It's all there in glorious and sickening detail.
When not dispensing terror, Casey explores much of the interesting history of the islands and also focuses on vast variety of bird species that nest
there.  These parts of the book are also exceptional and provide a welcome break from the high adrenalin sections.
Casey is at the forefront of a new and growing genre: intrepid female journalist adventure non-fiction.  As also demonstrated in her second book, The Wave, she appears to be completely fearless, but doesn't really make much of a big deal about it.  Just her various descriptions of rock, boat and sea related clashes, not to mention the hungry sharks at arm's reach, are memorable and make me nauseated as I sit here typing.  It's clear that nothing was going to keep her from completing this reckless mission.  Not even copious amounts of bird sh*t.
Any shark buffs and all adventure writing aficionados will love The Devil's Teeth.  Fabulously and fearlessly told, it's captivating throughout, although it's not for readers with a weak constitution.  I'm enthusiastically looking forward to Casey's next wild adventure.
— D. Driftless
photo by Jan Roletto
[AMAZONPRODUCTS asin="0805080112″]