Going Underground…
Author:  Sudhir Venkatesh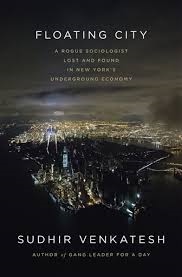 It's so obvious that it barely requires any evidence – a quick glance at one week's TV schedule would suffice – but people seem to be unquenchably obsessed with the criminal underworld.  Perpetually fascinated by the dark side of the human psyche, we gobble up crime stories in any form we can, so it's not surprising that there are scientists who devote their lives to studying criminal behavior.  Then, when they write books – especially if there's any sex involved – we read them, or at least fidget with anticipation until the movie comes out.  Floating City – an exploration of New York City's underground economy – is a recent non-fiction contribution to the media smorgasbord, which stands out primarily because it's written by an actual sociology professor, Sudhir Venkatesh, who teaches at Columbia University.
Referring to himself as an ethnographer –a sociologist who actually talks to people –and fresh off his critically acclaimed Gang Leader for a Day, Venkatesh moves his research from the Chicago projects and embeds himself deep in New York City's sex and drug underworld.  He befriends cocaine dealers in Harlem, Dominican prostitutes on the Lower East Side, Pakistani porn shop operators in Midtown and wealthy heiress sex brokers on the Upper East Side.  With their help he learns about the many dismal secrets of New York City's extensive illegal economy, striving to reveal the hidden connections that tie the various parts together.
The book is remarkable for several reasons.  The good professor is affable with a capital A.  He can get people to talk about anything and with his consistently non-judgmental approach somehow finds a way into the lives dozens of interesting characters.  But this approach carries some obvious risks.   Is he their friend?  Or is he just an observer?  What does it mean to be a scientist in this context?  These questions have some life and death ramifications that Venkatesh attempts to answer, with varying levels of success.
In addition, I found much of the author's economics discussion interesting.  His exploration of how people with no other options doggedly pursue their "illegitimate" work in the hope that they can eventually convert that success into a more "legitimate" vocation takes up much of the book.  Even if what they do is illegal, it's still a large part of the city's vast economic engine.   He also explores the downside of gentrification and its disruptive impact on these "invisible" people.
But the best part of the book – and what really kept me reading – is the way that Venkatesh seems unable to resist the forces around him as they drag him deeper into these people's lives.  As his own personal life implodes and his scientific detachment erodes, it becomes increasingly difficult for the reader to figure out how he's going to survive with his life, job and clean criminal record intact.  His waxing and waning levels of insight into his tenuous situation create plenty of dramatic tension and while he touches on what motivates him to do this work, I'm not sure that his answers are very convincing.  Is he benevolent supporter of the down trodden or is he just an opportunist?
Equal parts sociological investigation and unique personal memoir, Floating City is a well-balanced, deftly written and consistently entertaining look at the New York City's real world criminal economy that paints a more complete picture than any Law and Order or CSI episode can.  Venkatesh's willingness to take the seemingly irrational plunge into a realm that most of us will never see makes for reading that's as interesting as it is disturbing.  A four out of five star recommendation for adult readers only.
— D. Driftless
[AMAZONPRODUCTS asin="1594204160″]