The Secrets of Life…
Author:  Sean B. Carroll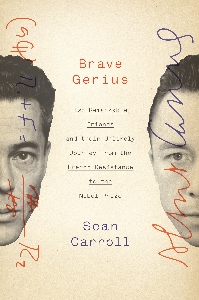 I've often said that the best science writing comes from actual scientists who write well.  But what happens when a scientist decides to venture far afield, writing about topics distant from white coats and laboratories?  Sometimes, it results in a truly remarkable book.  Case in point, Brave Genius, by Sean B. Carroll, a splendidly conceived history of the French Resistance, the founding of existentialism and the birth of modern molecular biology. 
At first glance, it sounds completely contrived.  How can these three disparate topics be so intimately connected?  It's not immediately obvious and in lesser hands it might have failed miserably, but Carroll – who works a day job as an award winning molecular biologist and geneticist at the University of Wisconsin – has the writing chops to create truly engrossing adventure, basing much of the book on previously unpublished material and correspondence.
Set against the backdrop of the occupation of France in World War II, the book tells the story of two Frenchmen:  Jacques Monod – a little known bacteriologist at the Sorbonne – and Albert Camus – a sickly and impoverished Algerian-born writer.  As the war escalated and France blundered its way into Hitler's traps, both men would play crucial – and dangerous – roles in defense of their homeland.  At the same time, they were somehow able to continue their efforts to unravel the secrets of life, both biological and philosophical.  It wasn't until after the war that the two men became dear friends, each eventually receiving a Nobel Prize in their respective areas of endeavor. 
Consistently displaying an almost infectious enthusiasm, Carroll clearly enjoys writing about these subjects.  He includes copious details about the war, from Nazi and Allied battle plans to the day to day strategizing of the French Resistance, including dozens of less famous heroes and heroines.  In addition, when he's not explaining how Monod's clever experiments with E. coli led to an understanding of protein manufacture in the cell – a topic close to Carroll's home turf – he's exploring how Camus developed his idea of Absurdism and wrote some of the most influential novels of the 20th century.  From Monod's intellectually stimulating lunches at the Pasteur Institute to parties with Camus, Jean-Paul Sartre and Simone De Beauvoir at Pablo Picasso's apartment in occupied Paris, Carroll does a fine job of immersing the reader in this turbulent and intriguing time. While the author or his editor could have chosen to chop out many of the fascinating details in this 500 page saga, doing so would have would have taken much away from the book's emotional impact. 
The author's fondness for detail is just one of the reasons why this book is such a hefty tome.  The daunting combination of two multifaceted biographies with a detailed history of the war is dangerously ambitious.  But adeptly and confidently, Carroll manages to weave the book's many threads together, clearly explaining complicated science, philosophy and history, while simultaneously maintaining a powerful dramatic flow. 
Displaying how formidable obstacles often seem to bring out the best in people, Brave Genius is an astonishing historical World War II chronicle by a remarkable writer.  Despite its prodigious length, the story is so compelling and well-told that I didn't want it to end.  Seemingly as talented a writer as he is a scientist, Carroll spares few details and deftly uses them to create a thoroughly riveting story.  Strongly recommended for anyone who enjoys great history writing – scientific, philosophical or otherwise.
— D. Driftless
Our review of another Sean B. Carroll book is here.
Readers Lane reviews of other World War II books:
[AMAZONPRODUCTS asin="0307952339″]