POTUS RIP X 3…
Author:  Sarah Vowell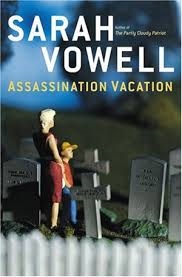 Can you name the first three US presidents killed while in office?  How about the names of the assassins?  If that kind of morbid American history trivia appeals to you and you have a special fondness for historical plaques and monuments, Assassination Vacation by Sarah Vowell is the book for you.
Freely acknowledging her persistent and occasionally disturbing obsession with death, Vowell – a best-selling author and essayist – travels the country digging for the details surrounding the deaths of presidents Lincoln, Garfield and McKinley.  Not surprisingly, she visits the sites of the assassinations – Washington, DC for the first two and Buffalo, NY for
the third – as well as the tombs of the three presidents, but Vowell's tangential machinations are just getting started.  Somehow she finds reasons to visit Ketchikan, Alaska; Fort Jefferson at the tip of the Florida Keys; Oneida, New York and Long Branch, New Jersey, as well.  Locations that are sure to test the power of high ranking history trivia buffs everywhere.  The excitement that she exudes as she roams Cleveland's Lake View Cemetery – site of the Garfield Memorial, as well as the graves of numerous other key players in the lives of all three presidents – is both bizarre and endearing at the same time.
Often starting with just a simple plaque or statue, Vowell takes off on numerous historical rambles, frequently heading in unpredictable directions.  Whether she's following John Wilkes Booth's escape route across the Maryland countryside, exploring what motivated Garfield's crazy assassin or how the United States' growing imperial ambitions made McKinley an obvious target, Vowell delivers a lot of captivating historical storytelling.
Somehow, Vowell turns all the talk of death and sorrow into a fully entertaining read.  Her ability to clearly tell an interesting story and
season it with just the right tastefully comedic touch, even when discussing tragic events, is quite remarkable.   Her reliable travel companions and chauffeurs – friend Bennett or twin sister Amy – and her little nephew Owen often provide comic relief and allow the author ample opportunity to display her unique self-deprecating wit.
Even if you have only a passing interest in the topic, you might find this wide ranging rumination on presidential death quite fascinating.   Artfully balancing the morbid with the poignant, Assassination Vacation is a surprisingly touching look at some pivotal and intriguing moments in American history.
— D. Driftless
Other reviews of road trip history:
[AMAZONPRODUCTS asin="B000FCK300″]