The Past Lives On…
Author:  Sanford Tweedie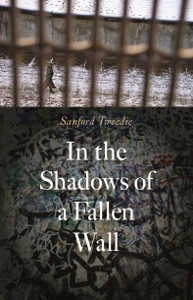 Sometimes adventures just happen to people, other times they go out of their way to find them.  Either way, in the hands of a talented writer, the result can be enlightening reading.  In the fall of 2000, Sanford Tweedie – a writing professor at Rowan University in New Jersey – accepted a Fulbright scholarship and moved his family to Erfurt, Germany, a city of about 200,000 people that resided in the southwest corner of East Germany until reunification in 1990. Tweedie had visited Germany before, but had never ventured behind the defunct Iron Curtain.  He was motivated to find out how the abrupt change from communist state control to freewheeling capitalism had impacted the city and its residents.  In the Shadows of a Fallen Wall is the story of his family's year abroad, as well as a brief history of Germany's unique role in the Cold War.
So after tidying things up at home and shipping a couple boxes of essential belongings ahead to meet them there, Tweedie packed up his wife and two daughters – one pre-teen, one toddler – and flew off to Frankfurt, Germany.  After a couple weeks of intensive language and cultural instruction in Berlin, they headed on to the outskirts of Erfurt, moving into their Soviet style cement block sublet apartment with complementary use of the owner's red 1992 Ford Escort.  Ever optimistic, the author and family quickly scrubbed away the filth, tossed away the old food in the fridge and made themselves at home.
The author goes on to describe the various intimidating challenges they faced in making friends, teaching undergraduates, dealing with the police and learning all the essential customs.  But by far the most daunting obstacle was language, as Tweedie only knew a bit of German and his wife and daughters knew none at all.   These barriers were a frequent source of stress and embarrassment, adding some comic aspects to the story.
But the most interesting part of Tweedie's story is what he learns from his neighbors, friends and colleagues about their new life in unified Germany.  The dramatic switch from communist to capitalist worlds affected eastern Germans in numerous ways.  Even more than ten years later much of the economic and psychological baggage of the Soviet era persists as does plenty of animosity between the formerly eastern and western citizens.
As one would expect from a writing professor, Tweedie writes well and tells his story in a thoughtful and often creative way, only occasionally overdoing it with various literary flourishes.   He also includes a few intriguing examples of "flash fiction" – works under 500 words – that were inspired by his year abroad.
In the end, In the Shadows of a Fallen Wall is a success, both as a family adventure and as a cultural exploration of a unique period of European history.  Tweedie's bravery and persistence in the face of formidable challenges makes for an entertaining and recommended read.
— D. Driftless
Many thanks to the University of Nebraska Press for the review copy. 
Erfurt photo Ralf Roletschek
[AMAZONPRODUCTS asin="0803271417″]