Deadly Business…
Author:  Robert Kolker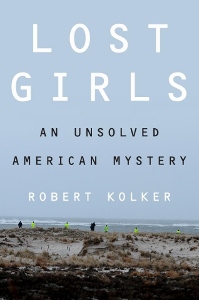 Sex sells.  The delivery methods and technology involved may change, but it seems unlikely that anyone ever lost much money betting on this eternal concept.  Unfortunately, in the United States, with its history of deep puritanical and religious roots, human sexuality and everything that goes with it continues to be consistently suppressed, stifled or ignored with frequent nasty consequences.   Some examples were recently uncovered in a suburb of New York City, when the bodies of five prostitutes were found in the brambles along the ocean shore in Oak Beach, NY in 2011 and 2012.   Award winning journalist Robert Kolker tells their story in Lost Girls.
Oak Beach is a small gated community on Jones Beach Island, a skinny barrier island on the Atlantic side of Long Island.  Once the home of the infamous Oak Beach Inn – watering hole for mobsters and birthplace of the Long Island Iced Tea – the town had subsequently prided itself on its privacy and quietude.  That all changed when Shannan Gilbert – a prostitute on a call in Oak Beach – called 9-1-1 in the wee morning hours of May 1st, 2010 scared out of her wits, screaming for help.  But by the time the police arrived she was gone and was never seen alive again.  In December of that year, following a poorly organized, half-hearted and unsuccessful search for the woman, the bodies of four other young women – also prostitutes – were found, wrapped in burlap, laid in a row in the weeds three miles from town.  Exactly one year later, driven by the persistent pressure of the grieving families, Shannan's remains were finally found in a marsh on the outskirts of town, less than a mile from where she had made her frantic phone call more than 18 months earlier.
Based on news reports at the time, the five women – unknown to each other, all in their twenties and all prostitutes who used Craigslist to sell their services – were rather indistinguishable.  But Kolker devotes the first half of the book to telling each of their individual stories.  He tells of Maureen Brainard-Barnes, a mother of two from Norwich, CT, who worked as a telemarketer and at McDonalds until those jobs ended, leaving her "massage" appointments as the only way for her to make ends meet and pay for her drug habit.  Woman number two is Melissa Barthelemy, an 'A' high school student and beauty school graduate from Buffalo, NY who moved to New York City with her boyfriend, rebelling against her parents and began turning tricks in Times Square.  Shannan Gilbert was the third woman to disappear, growing up in the small town of Ellenville, NY in the foothills of the Catskills where her dysfunctional mother was repeatedly forced to give her up to the foster care system.  This lack of family connection made it easy for her to move off to NYC as soon as she finished high school, resorting to the "escort" business to support herself.   Megan Waterman of Portland, Maine may have grown up in the most difficult family situation, although the competition is formidable.  A rebellious young woman, raised by her grandmother, mixed up in drugs, alcohol and shoplifting at an early age, she seemed to be on the verge of turning her life around with the birth of her daughter, but shortly after spiraled into destructive behavior once again.  The last woman to disappear was Amber Overstreet of Wilmington, NC, a victim of sexual assault at a young age who was ushered into the sex trade by her older sister Kim.
Each mini-biography explores the childhood of each victim and discusses their subsequent sex work in exhaustive and often disturbing detail.  Kolker's accounts are based on interviews with dozens of family members, friends and co-workers and he does an admirable job of making sense of the many conflicting and biased versions of events.  A list of characters is included at the end of the book, a useful resource that I consulted frequently as the tragedy progressed.
The second half of the book focuses on the crime scene and the subsequent investigation.  Skillfully tying together the information he gathers from the local residents, detectives and victim's families, Kolker attempts to come up with some plausible theories, as the murderer or murderers remain at large to this day.  The paucity of helpful findings makes this a challenge, but also makes for great reading.  With a gentle touch and remarkable journalistic tact, the author almost becomes a character in the story as he gets to know the family members and Oak Beach residents so well, allowing the reader to view the tragedy from many different perspectives.
One of the most thought-provoking concepts in the book, appearing time and again, is the idea of blame.  Most will agree that the perpetrator is primarily to blame for these tragedies, but can we cast a wider net?  How much are the girls themselves to blame?  What about their parents, grandparents and siblings who raised or failed to raise them?  How about Craigslist and other sites like it that make it so easy for psychopaths to select a new victim?  How much is our moralistic society to blame for making the commercial sex industry illegal, covering it up and thereby making it much more dangerous for its practitioners?  Blame is a remarkably thorny concept when it comes to sex.
Painstakingly and conscientiously constructed, Lost Girls is a uniquely American real-life sexual horror story, made worse by the fact that there are no satisfactory answers.  We don't know who did it.  We don't really know what happened.  We can't even agree on who to blame.  The journalistic bravery Kolker exhibits to explore this still open and raw wound is to be commended and the respect and thoughtfulness he brings to the topic is to be admired.  Highly recommended for any fans of quality true crime writing.
— D. Driftless
photo by Knotnic
Other Readers Lane reviews about real-life murderers: