Bloody Empire…
Author:  Robert Graves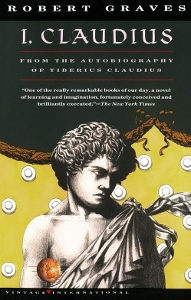 The angelic and demonic aspects of the human psyche have been explored by philosophers, artists and others for millennia.  Even in the first bit of the 21st century we've had ample demonstration of the latter trait and the preceding century certainly provided numerous opportunities to point out humanity's moral failings, but by many measures, the dawn of the Roman Empire was as foul a display as ever.  Numerous efforts have been made to reconstruct what life was like in the imperial court two thousand years ago, one of the most acclaimed being I, Claudius, a novel published in 1934 by Robert Graves.  Based on numerous historical accounts, the book is a fictionalized autobiography of Claudius, the fourth Roman emperor.
Graves, a British writer who was initially famous for his World War I poetry, tells of the early years of the empire from the perspective of Claudius, a great-great-grandnephew of Julius Caesar who was born in 10 BC and hampered by a disabling limp, stammering speech and numerous embarrassing ticks.  He was mistakenly considered a moron by his family and most of his associates, but he was actually an avid historical scholar, passionate about documenting and understanding the political world around him.
Claudius was born during the long reign of Augustus, the first emperor who was succeeded by Tiberius and Caligula, names destined to give autocracy a bad name.  He provides an intimate firsthand account of all the political and murderous intrigue that was such a morbidly intricate part of the government, focusing much of his wrath on his paternal grandmother Livia – wife of Augustus and the motive force behind many of the devious plots and conspiracies.  Fortunately for Claudius, the general perception that he was an imbecile made him less of a threat and seems to have helped him avoid all the poisonings and bloodbaths.
Graves creates an entirely fascinating character in Claudius, revealing a brilliant and compassionate man who favored a return to the more enlightened Roman Republic, not a popular viewpoint within the imperial court.  While the cast of characters is formidable and occasionally overwhelming, the story moves along at reasonable clip and I found the dramatic payoff well worth the effort.  Ending in the year 41 AD – when Claudius is declared emperor after Caligula's untimely demise – the book is followed by a sequel, Claudius the God, covering the years of his imperial tenure.
Selected as one of the 100 best novels of the 20th century and a groundbreaking work of historical fiction, I, Claudius is also plenty entertaining.  Guaranteed to make modern day political shenanigans look like child's play, it's a captivating look at one of the bloodiest periods in European history.  Strongly recommended for history buffs or anyone intrigued by the darker side of human nature.
— D. Driftless
Read Dave's review of the sequel:  Claudius the God.
claudius photo by Luis Garcia
[AMAZONPRODUCTS asin="067972477X"]