Digging in the Dirt…
Author: Richard Polsky
After spending some 65 million years buried in rock, Sue was unearthed in western South Dakota and auctioned off for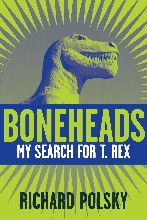 $8.3 million at Sotheby's in 1997, subsequently taking up residence at the Field Museum of Natural History in Chicago.  Not surprisingly, this record setting monetary windfall for an almost complete Tyrannosaurus rex fossil skeleton generated a tsunami of enthusiasm, motivating amateur rock hounds across the country.  Richard Polsky catches the bug and tells his tale in the light-hearted Boneheads: My Search for T. rex.
A budding paleontologist in his youth, Polsky changed directions and eventually became an accomplished modern art critic and dealer.  Wrestling with the usual middle life demons, he decides to put the art life on hold for a bit and revisits his first passion.  He hops in his Honda Civic and heads to the badlands of South Dakota, where every ranch seems to have at least a few skeletons hiding in the rocks, maybe even a T. rex.
Needless to say, when there are million dollar fossils waiting to be found, there are plenty of others with similar ideas.  Moreover, property owners don't necessarily take kindly to strangers traipsing over their land, especially when there are fortunes to be made.   For these reasons, Polsky find it challenging to find anyone to help him and the book tells of his often humorous efforts to ingratiate himself with this bizarre group of fossil fanatics.
While Polsky writes with skill and wit and is socially fearless, it surprised me how little actual fossil hunting occurs over
the 200 plus pages.  Plenty of talk, not much digging.  Instead, he entertains with stories from the unique world of the commercial fossil industry, which understandably comes into conflict with academic paleontology quite frequently.
Anyone looking to learn about T. rex or Cretaceous North America is likely to be disappointed, although they may find Polsky's story entertaining nonetheless.
In the end, Boneheads is an enjoyable tale about fossil hunters and one man's efforts to join their brother and sisterhood.  Polsky seems like a nice guy, but I typically prefer a considerably larger dose of science to feel sated and this book just doesn't deliver.  However, I can give it a qualified recommendation it to anyone interested in an enjoyable science-lite romp or to those looking to make a quick million digging up rocks.
— D. Driftless
photo by Steve Richmond
[AMAZONPRODUCTS asin="1571782532″]