High Flying History…
Author:  Richard Holmes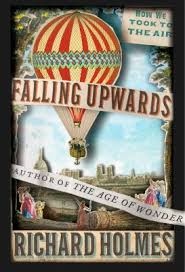 I still remember being thrilled by Le Ballon Rouge as a kid.  The short 1956 Oscar winning movie about a small boy and his friendship with a magical red balloon in the tough streets of Paris had a lasting impact on me as I dealt with my own bullies as a kid.  It is with a similar naïve enthusiasm that British biographer Richard Holmes approaches the romantic and occasionally tragic history of ballooning in Falling Upwards, an exploration of humankind's first successful flights from the Earth's surface.
Starting with the early days in Britain and France, Holmes describes how the first balloonists served primarily as entertainers, performing for enthusiastic late 18th century crowds.  As ballooning technology advanced, attempts were made to develop balloons as a form of transcontinental transport – particularly on the expanding American frontier – although the wind and weather never seemed to allow such ambitious plans to make it past the dream stage.  The author goes on to discuss the subsequent use of balloons in the American Civil War and as early tools in the infant science of meteorology.
While the book includes plenty of ballooning history, Holmes focuses primarily on the profound cultural influences that this almost magical new form of transport invoked, both as a nationalistic propaganda tool – Anglo vs. French, North vs. South, Norwegian vs. Swede – as well as literary inspiration for giants like Poe, Dickens, Verne and Hugo.  The author describes dozens of balloon adventures throughout the book, telling of numerous death-defying heroes of whom I'd never heard.  He also includes scores of original images – drawings and photographs – that successfully capture the splendor and terror of these high-flying adventures in ways that simple words cannot.
Ambitiously and enthusiastically attempting to cover the first one hundred years of ballooning history – from the late 18th to the late 19th century – Holmes has a rather large bolus of material to deal with and unfortunately he gets in a little too deep at times.  He often seems to lose focus – footnoting frequently – and his tangential wanderings repeatedly bog down the narrative.  This problem vanishes in the second half of the book when he writes with tension and passion about the Siege of Paris (1870-71) and Swedish engineer Salomon August Andrée's ill-fated attempt to fly to the North Pole via hydrogen balloon in 1897.
In the end, Falling Upwards is a frequently entertaining history of the romantic era of ballooning, before the more mundane railroads and fixed winged aircraft gained the upper hand in humankind's endless technological odyssey.  Jam-packed with details and often bursting at the seams – leaking gas occasionally – I can recommend it for anyone with a specific interest in ballooning, but I think that mainstream history and science readers may want to take a pass.
— D. Driftless
[AMAZONPRODUCTS asin="0307379663″]