Please, You Go First…
Author:  Richard Conniff
Some animals get all the love.  Pandas, dolphins, tigers and horses are loved by many for their beauty, intelligence or cuteness.   But as one wanders the great outdoors, most of the creatures encountered are much less pleasant, if not downright loathsome.  Adventure journalist Richard Conniff has spent much of his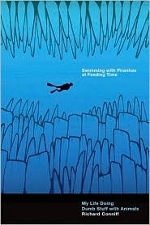 career seeking out the latter – life's less desirables, taking obvious pleasure in the effort.  The creepier the better.  Swimming with Piranhas at Feeding Time is a 2009 compilation of 23 of his essays that proves to be informative, entertaining and often disgusting.
Drawn from a list of impressive periodicals – Audubon, National Geographic, Discover and Outside – Conniff's work includes pieces on local creatures – termites and snapping turtles  in Louisiana, hummingbirds in Arizona and horseshoe crabs on the coast of Cape Cod; as well as exotics – lemurs and ants in Madagascar, baboons and wild dogs in Africa and spiders in Costa Rica.  Every essay is delivered with an enthusiastic emphasis on the bizarre.  I think Conniff pays the bills writing about the popular animals he's included like leopards, cheetahs and chimpanzees, but he appears to take the most pleasure when delving into the mysteries of more unusual beasts, like jellyfish, fire ants, piranhas and human follicle mites.  The latter miniscule creatures are almost certainly in residence on your forehead.  Don't bother, it doesn't matter how hard you scrub.
"Rich, hearty, slightly crunchy.  Similar to getting your hand mashed in a revolving door"
Each essay is excellent, but for me, the most memorable topics include the following:  a visit with Justin O. Schmidt – known as "The King of Pain"—creator of the Schmidt Pain Index, which ranks the misery induced by various insect stings on a scale of 1 to 4 and describes many of the 60,000 possible
hymenopteran stings like you might a fine wine; a trip to the Amazon in swim trunks to see if piranhas live up to their fearsome, bone-cleaning reputation; and an exploration of the highlands of Bhutan, searching for the yeti.
"I lingered blissfully among the jellyfish."
Conniff's writing is a joy to read, expertly balancing adventure, geekiness and silliness.  He takes his science very seriously, but adds enough self-deprecating humor to make it fun and easily readable.  Previously, I've enjoyed his more serious work in The Species Seekers, but I like this lighter material even more.   Given the quality of his work, I expect that Conniff has no shortage of new assignments.
If you have a fascination for the many odd life forms which span the globe and aren't averse to things that creep, crawl and slime, I can strongly recommend Swimming with Piranhas at Feeding Time.  It's teeming with all sorts of bugs and vermin, presented in a highly entertaining and informative style by a true master of the bizarre.
— D. Driftless
ant photo by Hans Hillewaert
[AMAZONPRODUCTS asin="0393068935 "]