Duty and Marriage in Bangkok
Author: Iris Mitlin Lav
When Crystal's husband, Brian, comes home one day to tell her that they are moving from a rural Oklahoma town to Bangkok, her world is turned upside down. It's 1975, and Brian has a powerful job with a company called FirstGas. This is his chance to make it big, going to Bangkok for an indeterminate amount of time to investigate the failing oil rig there. It goes without saying that they will move, that his wife and two children will follow, that this decision brokers no warning and no discussion. Or does it?
Crystal does what a good wife should – she quits the job she loves at the radio station, gets the kids ready to say goodbye to their schools and friends, and begins planning a move a world away. Only, the previous family on the outpost left suddenly, and it's impossible to get any details about their rapid exodus. With Brain absorbed in his job, Crystal is left arranging for a new house a world away and finding out how to transition to Thailand in the middle of an impending coup.
A Wife in Bangkok covers a lot of ground, both emotionally and geographically, examining marriage, loyalty, adventure, and self-discovery. Between the thrilling descriptions of Crystal's move and burgeoning interest and independence in a new country and the cloistered nature of a rote marriage, Crystal struggles through political and cultural shifts, loneliness and alienation, and finally her own husband's history of betrayal and selfishness. What follows is a story that shows how things fall apart, from the small scale of managing household servants in a land with a completely different culture and language to dealing with clinical depression and isolation.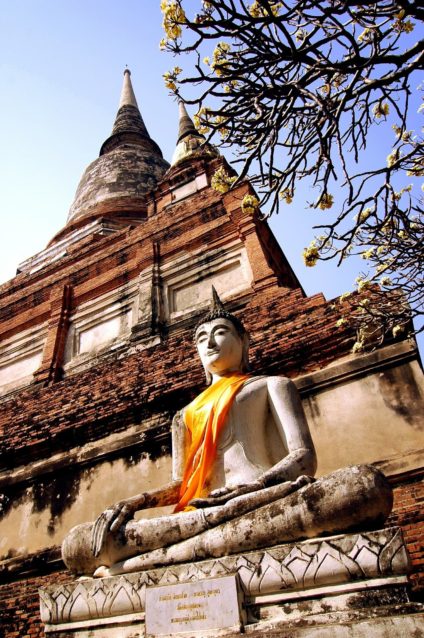 A Wife in Bangkok is a powerful and often inviting story. It holds us both on the basis of its premise – a marriage built simply on following unspoken rules – and the sometimes beautiful, sometimes ugly resilience of making a new life in a completely different place. The descriptions of Thailand, at least 1970s Bangkok, appeal to the curious traveler in us all. Crystal's slow discovery of everything from the precision of tone in Thai language, to the spicy food, to the completely different social structure is offset against the general landscape (unbearable heat) and the opportunities to interact with different religions and even animals (cue, an elephant ride through the jungle.) I wasn't invested in Crystal and Brian immediately, but the descriptions of Thailand, on the other hand, held me mesmerized as I got used to the story's cadence and the author's style.
That's a good transition point for my one major criticism. A Wife in Bangkok has magic, both in its location and the examination of identity and the dynamics of a marriage unexamined and unappreciated. Lav's style, however, is flat, and while the story itself is soaring, the language is one-dimensional and the dialogue simplistic, almost childish. The story tells us things without ever showing them, making Crystal and Brian, their servants and the people who surround them, all flat. It reads more like a screenplay, blow by blow descriptions of "she felt sad and abandoned" alongside the more traditional movements of "she did this, and then he did that, and then they went to the next room and had a fight." It's very plain and lacking in the dynamism which characterizes the subject matter and everything that is happening to the characters, which is a lot. By the end of the book we've seen everything from the red light district to kidnappings to thieving servants to isolation and severe depression. Yet, the way it is told underplays the drama.
This is nowhere better exemplified than in the dialogue, especially as Crystal and Brian argue. Often, they sound like, well, people from a book. No one talks as they would in real life. There is no anger and fire. Instead, there is more of the type of language that would characterize a psychiatrist's notes. For example:
"I'm happy to be here with you, but can I ask you to take things slowly? It's been a while since we were together, and I need some time to adjust. I hope you can be sensitive to that."
"For sure! I'm willing to be guided by you. I hope you can talk to me to tell me how you're feeling."
"Than you, Brian. I certainly don't want you to feel as if you're walking on eggshells around me. I'll try to be as open as I can" (253).
This is a typical extract from the book, showing how the characters are stilted around one another, neither of them ever feeling or acting entirely real. This telling, without ever allowing the people who populate the story to organically show their interactions and emotions, makes the impact less forceful. After all, with Crystal telling us constantly how lonely and depressed she is, we never have time to feel it. This style of up-front narration was a constant distraction to me, reminding me that I was, after all, only reading a story. A good story, but not a real one.
Normally, an issue with narration is fatal to even the best story, but A Wife in Bangkok somehow manages to survive the error and come out the other side. I never lost interest. Instead, as I got used to the style and transitioned from a minor interest in Thailand to being engaged with what was happening from the people side, I found myself enjoying the experience. It wasn't as powerful as it could have been, but it was nevertheless a book that I never regretted, that I enjoyed opening and following. My feelings about it are still complicated, as it's unusual to love a story and yet dislike the way in which it was told, but that's just what happened.
– Frances Carden
Follow my reviews on Twitter at: https://twitter.com/xombie_mistress
Follow my reviews on Facebook at: https://www.facebook.com/FrancesReviews

Latest posts by Frances Carden
(see all)