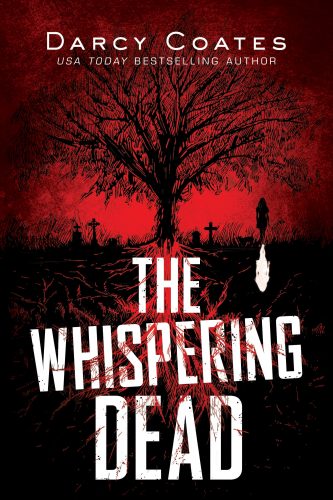 Author: Darcy Coates
Keira is running for her life, and she doesn't know why. She remembers nothing of her previous life, nothing before this night of dodging half seen figures, her body strengthened by an acute sense of danger. All Keira knows is that she can't be caught.
With the help of a kindly priest/caretaker, Keira finds a temporary refuge in the small town of Blighty. Adage (the priest), treats Keira's mysterious wounds, introduces her to the town doctor, and gives her an old cottage to live in, right by the graveyard. Keira still has no answers for her injuries, no idea who is after her and why, no concept of who she was before all this, and if she is a good or bad person. What she does know, however, is that she can see things others cannot. Like the ghosts walking in the graveyard at night, not at rest. One particular specter is drawn to Keira, and as she tries to figure out who she is and how she came to Blighty, she gets drawn into the ghost's restless past.
The Whispering Dead is the first book in the Gravekeeper series, something I didn't realize when I started reading it for a book club. As such, a lot of the key questions that being the book – just who is Keira, how did she get here, and who are these strange Men In Black types that are after her – remain unresolved at the end. Instead, The Whispering Dead builds a character and a place, posing itself as more of a supernatural (and oddly cozy at times) mystery than a straight up horror story. It's quirky, and weird, and really is too upbeat to work, and yet ultimately it just does. This is part of the magic of Darcy Coates, who can go for horror or create something oddly intriguing that falls between genres, as she has done here.
Keira is joined by a local shopkeeper, the loveable conspiracy theory nut Zoe, who is probably not the ideal sidekick to help skulk around graves and old houses at night. Keira also starts a budding romance with the town doctor, Mason, and gets a pet (read familiar) in the form of an adorable and perhaps prescient cat. As Keira solves the mystery of her first ghost and helps the specter move on, she starts to put her own past and questions behind her and responds to a unique calling. There are dead people here who need help, who need her to investigate the reasons they are lingering behind and help to answer the questions that keep them tied to a place in which they no longer belong. It's an oddly thrilling concept, and while the sidekicks and strange decisions Keira makes were at first off-putting to me, I fell into the cadence of the place and the ease of the story.
At the end, I wanted to read more, and I was glad that we didn't get Keira's full story, but are instead watching her grow as a character. I suspect when the reveal does come (maybe in the next book, maybe in the next several books) it will be more impactful because we have watched Keira grow into a new, perhaps better self in Blighty. I'm excited to pick up the next book in the series.
– Frances Carden
Follow my reviews on Twitter at: https://twitter.com/xombie_mistress
Follow my reviews on Facebook at: https://www.facebook.com/FrancesReviews

Latest posts by Frances Carden
(see all)