A fearless storyteller delivers her best book yet
Author: Kelly Corrigan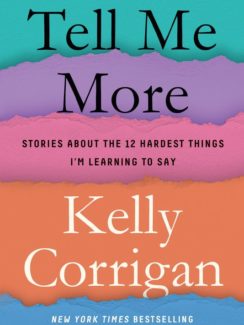 Are you a mother who has dropped the F-bomb too many times in front of her children? Do you get exasperated with moldy towels, perpetual carpooling, and naughty pets? Have you lost a parent? Have you lost a best friend?
In her newest book, Tell Me More: Stories About the 12  Hardest Things I'm Learning to Say, Kelly Corrigan offers a vulnerable and gutsy examination of the emphatically unglamorous (and often heartbreaking) moments that wrestle so many women to the ground. Whether she's squabbling with her teenage daughters or cursing the perils of online shopping, Corrigan narrates her episodes with a candor that is addictive.
She begins her book, which defies a label—is it memoir or self-help or inspirational or a perfect mash-up of everything?—with the confession that on any given day her emotional well-being is up for grabs. "I'm always teetering between a mature acceptance of life's immutables and a childish railing against the very same. In the time it takes to get the mail, I can slide from sanguine and full of purpose to pissed off and fuming."
But Corrigan's volatility isn't a surprise: since her last book (Glitter and Glue in 2014), she has said goodbye to her father and best friend. These deaths, one foreseeable and the other tragic, serve as the backdrop for Corrigan's stories. "I've seen mortality do its awful ghosting up close—twice—and that has changed the context of everything." Greenie and Liz are a shadowy presence lingering over every page, offering both comfort and a sense of urgency. Ultimately, they incite Corrigan to want to reconcile what she's witnessed with how she lives.
Corrigan structured Tell Me More in 12 sections, each unpacking a difficult thing she's learning to say to herself and others. These words and phrases are simple and momentous, and they have the power to wholly shift how we relate to our loved ones. Corrigan's writing is sublime, distilling sorrow and joy in equal measure. In "It's Like This," she wants to stop going to war with reality: "Resistance is the road to bleeding ulcers." In "Onward," a letter to Liz, she provides an update on Liz's husband and children: "I think they can love and be loved and, like we always said, that is all and everything." In "This Is It," she tries to make peace with motherhood: "[It's] our chance to be great for someone, to give another person enough of what they need to be happy."
As Corrigan works through her 12 concepts, she crosses a lot of terrain. She asks big questions, considers her future, and conjures memories—which, if you are anywhere close to her age of 50, you will adore because they are exactly right. Most astonishing: even if you aren't a middle-aged mom/wife/writer living in California, you'll still be able to relate to her. She grieves and wears unflattering khakis and sometimes drinks too much tequila—and straightaway reassures us that "we can be damaged and heavy-hearted but still buoyant and insightful, still essential and useful." I mean, how can you not love someone like this?
Like Corrigan herself, Tell Me More is a marvel.
[AMAZONPRODUCTS asin="039958837X"]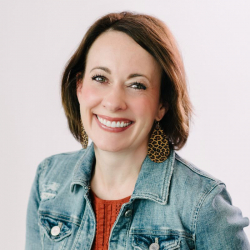 Latest posts by Laura Bird
(see all)